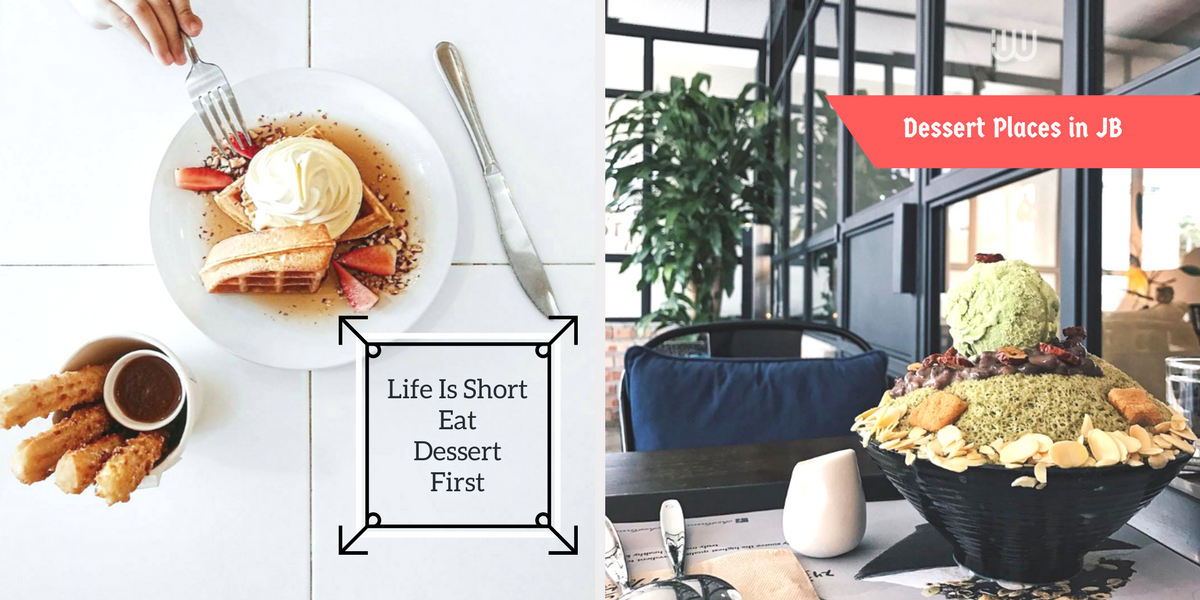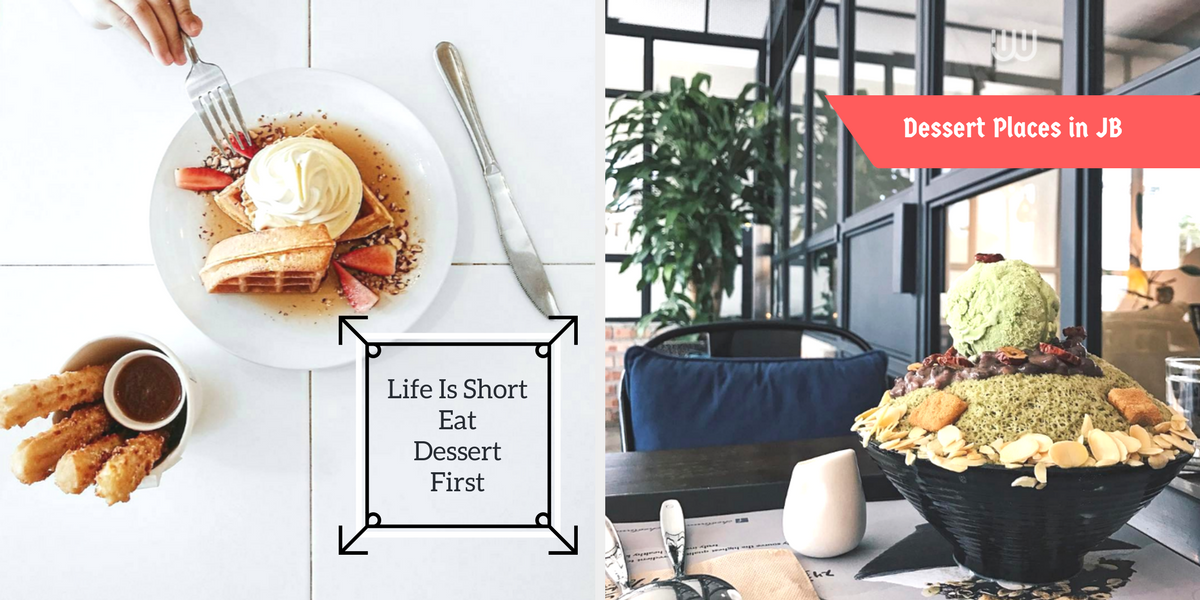 LIFE IS SHORT, EAT DESSERT FIRST!
"When you put rules and restrictions on something, you're only going to want it more," If you absolutely must have your sweet tooth satisfied then eat it too, don't restrict, that's fine! However, when your cravings hit out of no where, you are kinda lost about where to get your dessert fixed! Fret not, we have a list prepared for you and do keep it well, because it may comes in handy when you need!
#1 Cheotnun Korean Dessert Cafe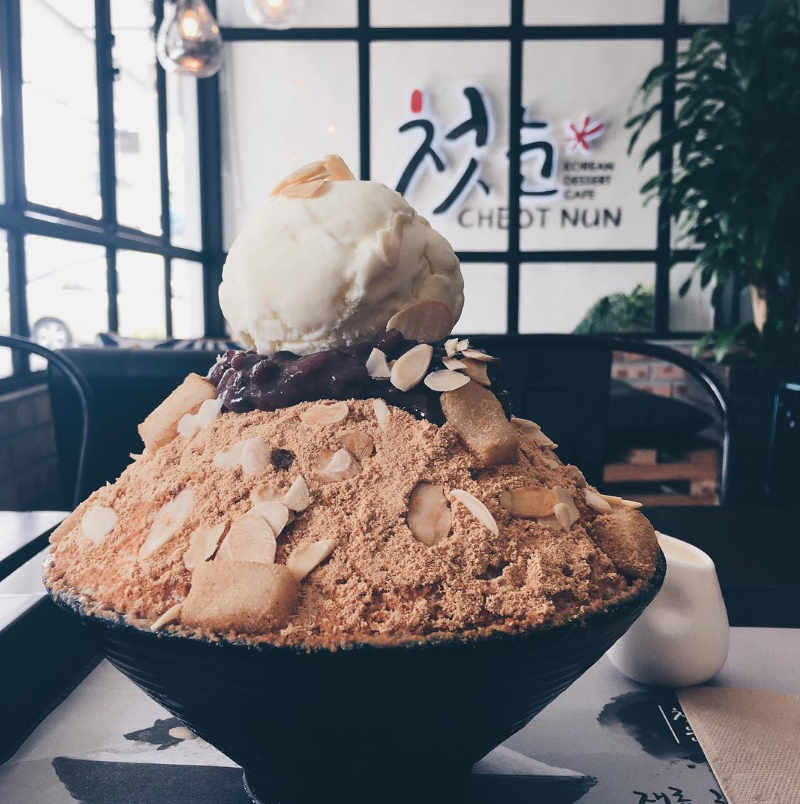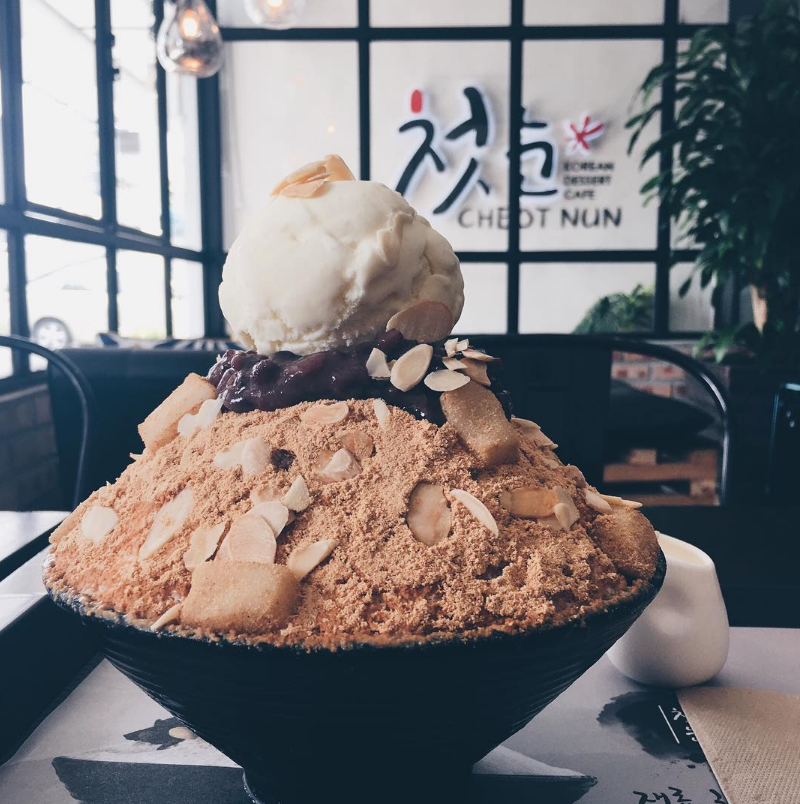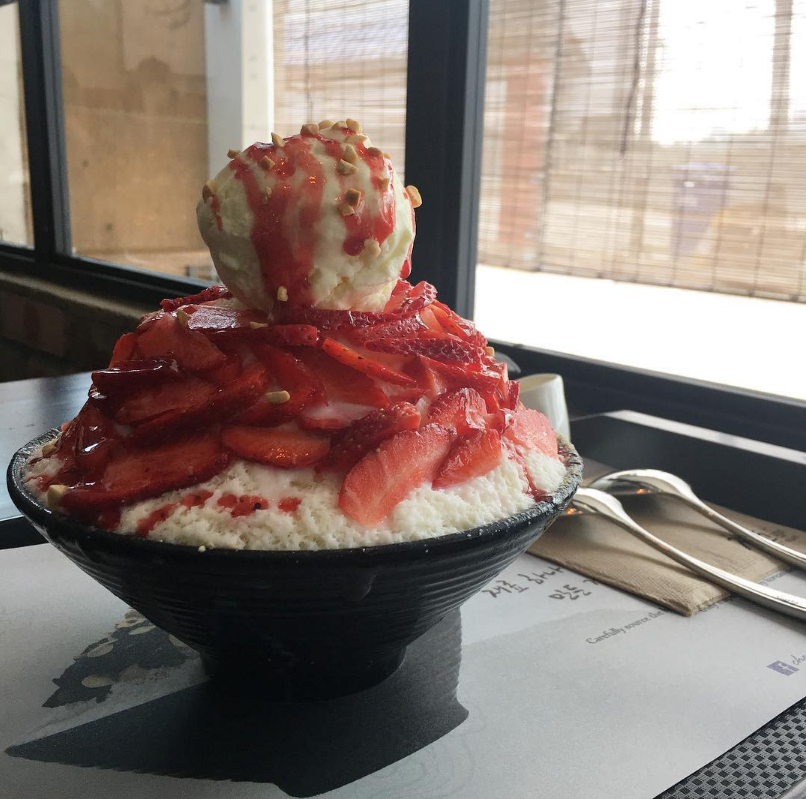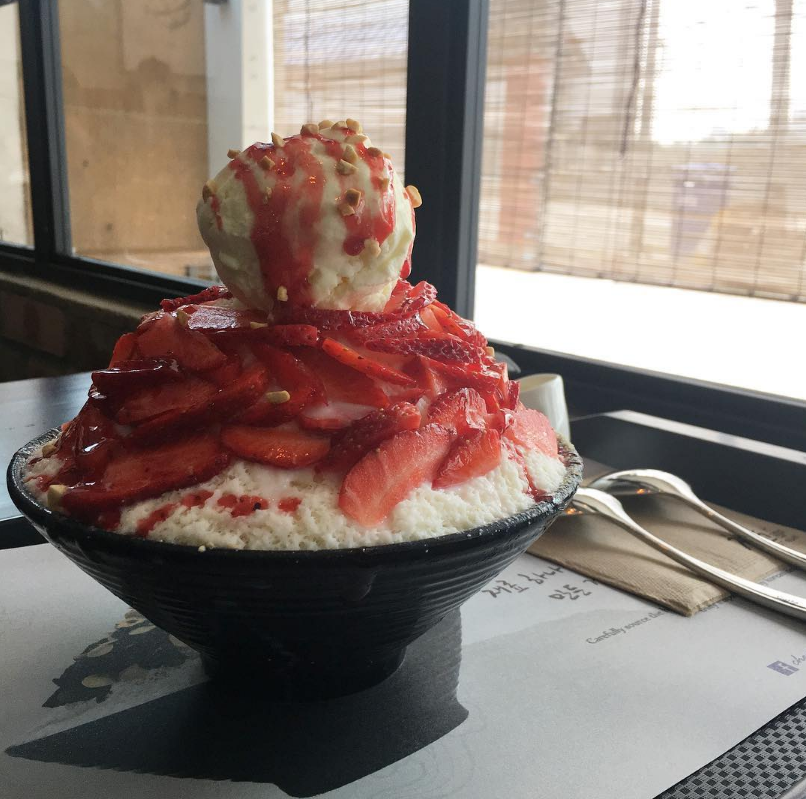 Bingsu craze is starting to mushroom in JB and more people are saying Saranghaeyo to Bingsu especially in this hot weather all year long. Strongly loved by many locals and Singaporeans, Cheotnun Korean Dessert Cafe had surely caught the desserts lovers heart! So spoiled for choices with their ranges on the menu! The usual Injeolmi Bingsu, Pat Bingsu, Mango bingsu and Chocolate Brownie Bingsu can all be found here. Also, if you are a Matcha lover, you definitely not gonna miss out trying their Green Tea Bing
su! 
Address: 62 Jalan Tebrau, Kim teng park, Johor Bahru 80400
Opening Hours: 2:00 p.m. - 11:00 p.m. (Tues - Sun)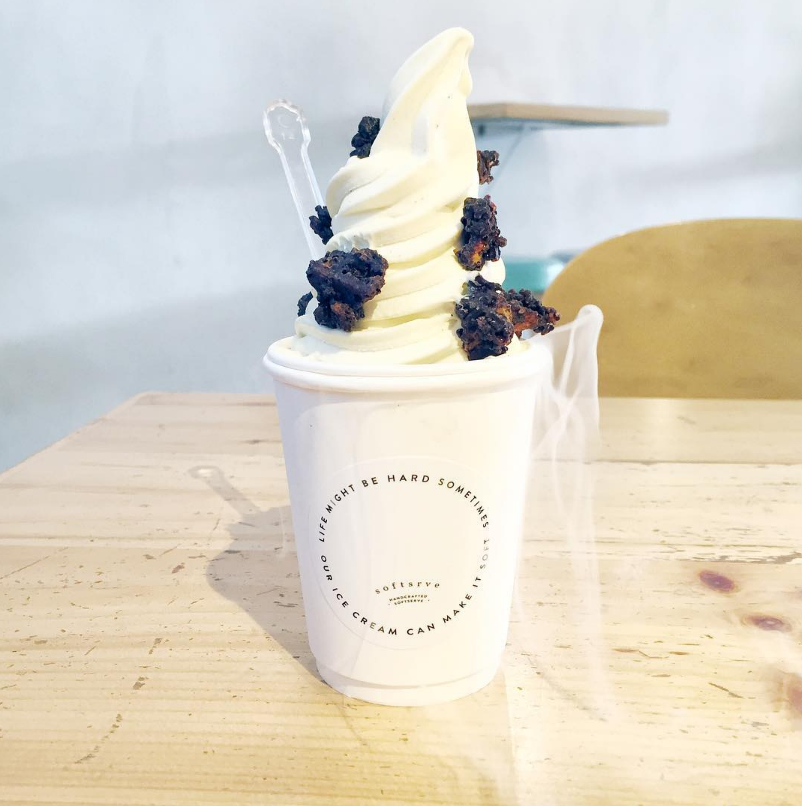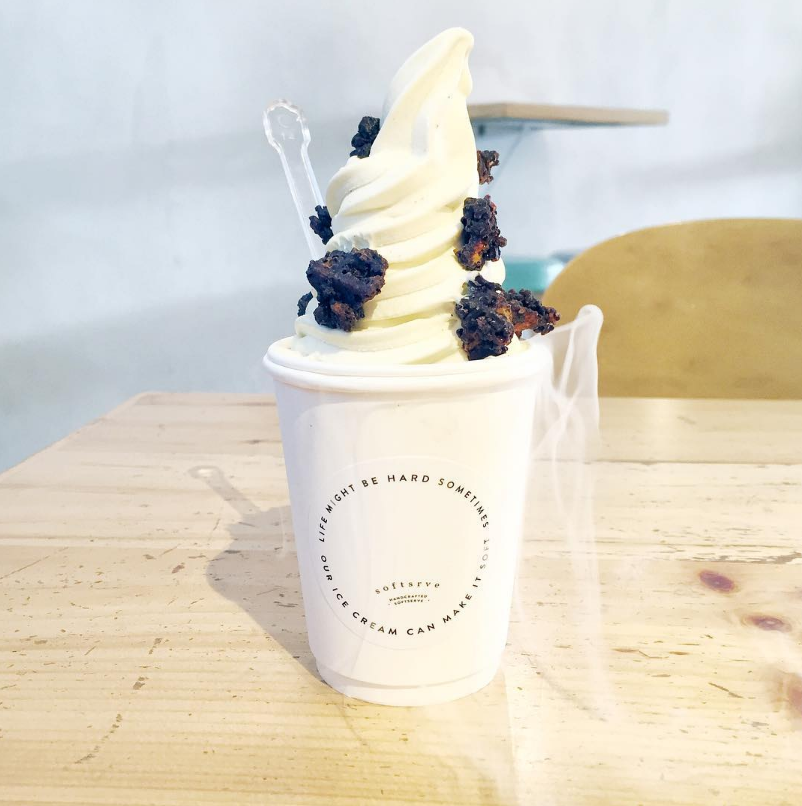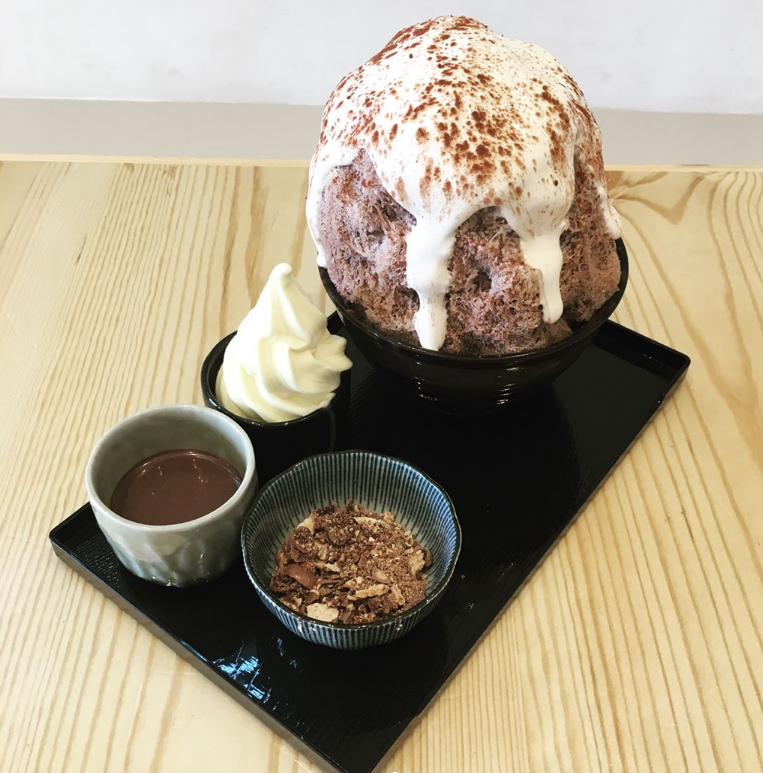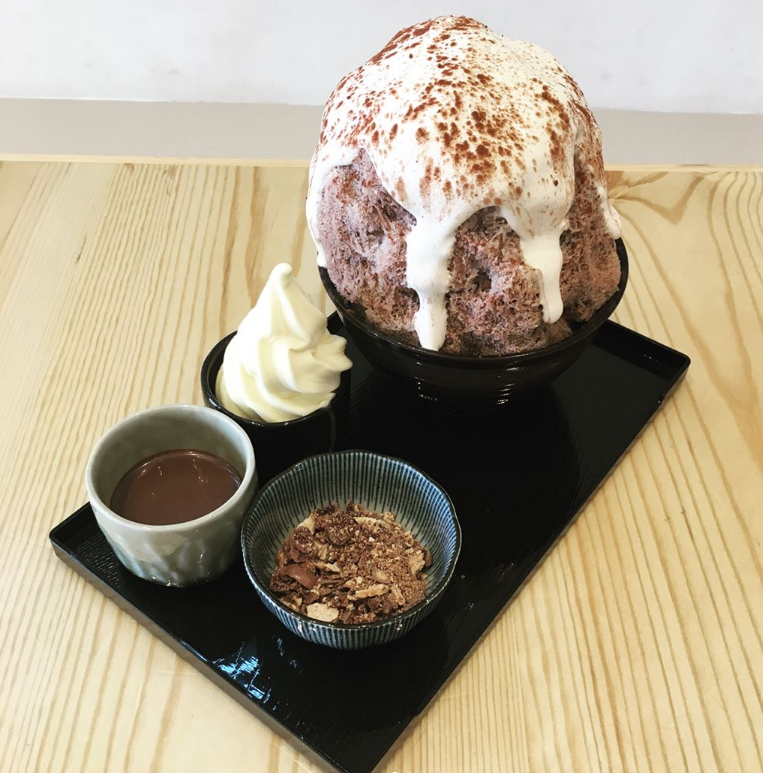 All things are soft before they gets hard! The highly raving softserve shop「 Softsrve Ice Cream Dessert and Bar」in Klang Valley is finally making its first presence in JB! They offer brilliant ice cream presentation and an array of choices that will suit the public tastes! Among the highly recommended choices includes Soft serve ice cream with Chocolate flavor and Oolong tea flavor! On top of that, with its minimalist cafe design, hipsters like you wouldn't resist to take a good picture there! Psst.. Don't forget to take your #ootd shots at the cafe entrance!
Address: L1-03, Blok A, Academic Suite, Jalan Austin Heights, Taman Mount Austin, 81100, Johor Bahru, Johor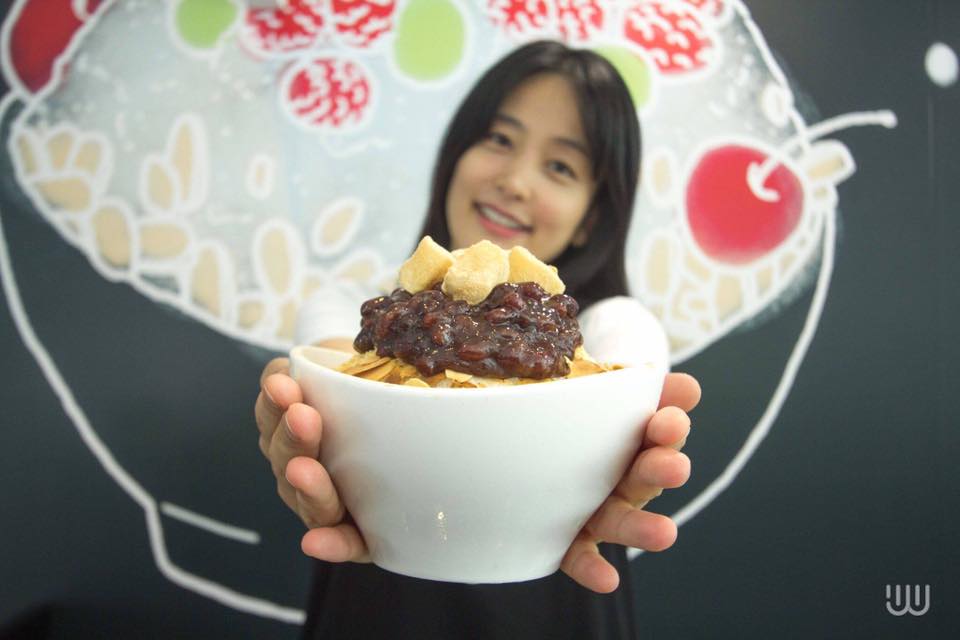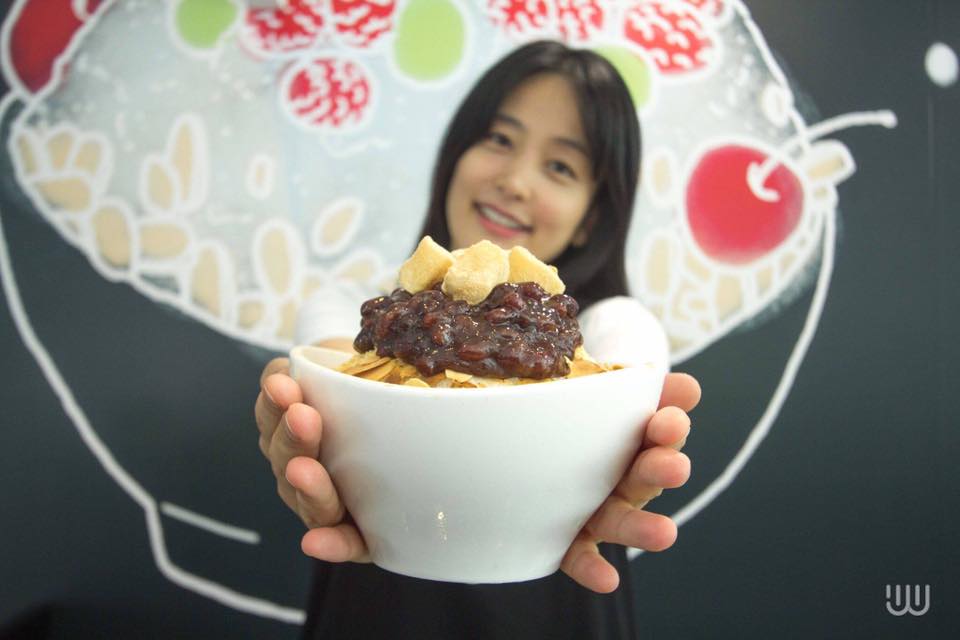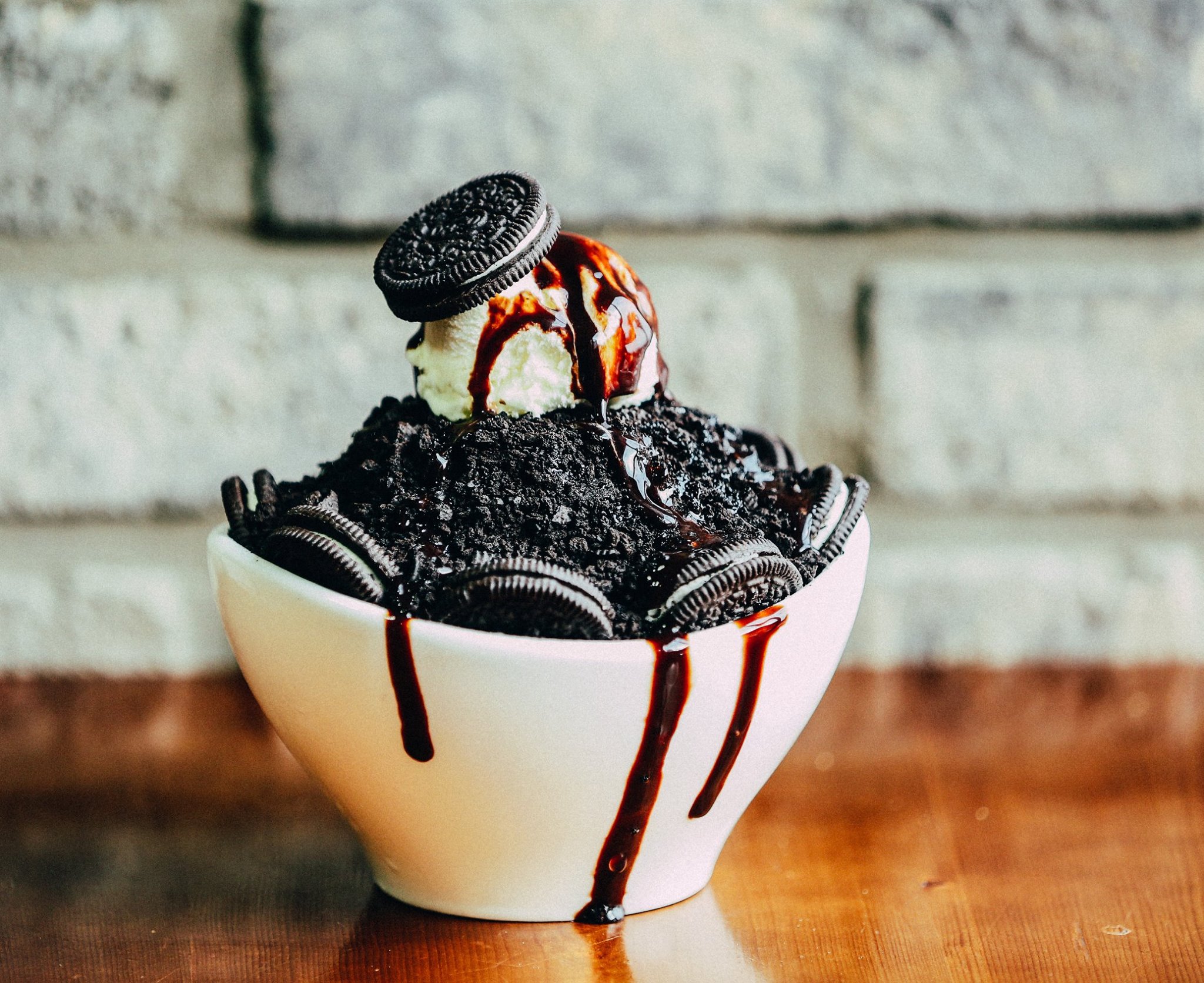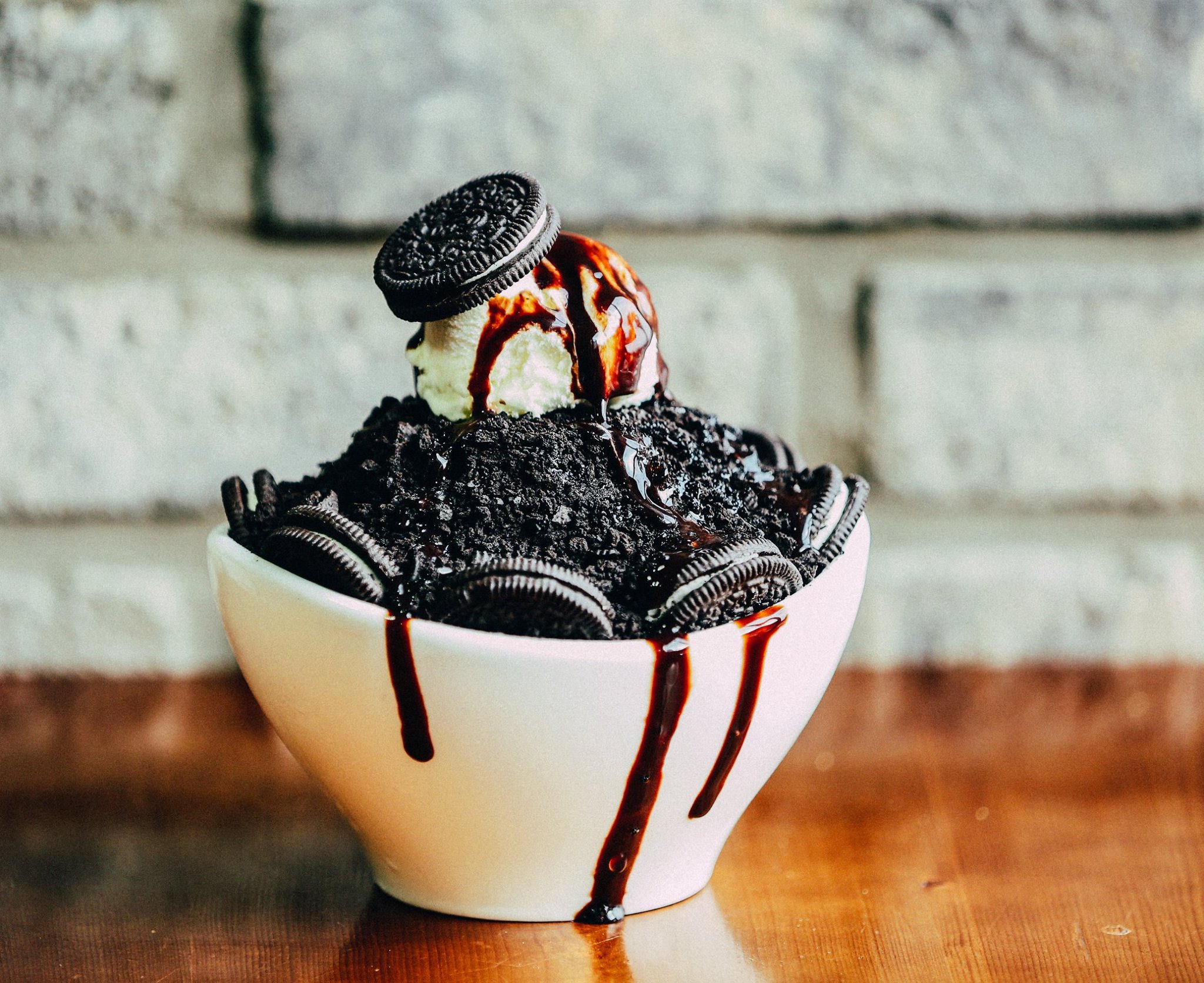 Who needs snow in Malaysia when you can experience the sensation in your mouth?  Our team had the exclusive first try in「Snowstory」yesterday and we are please to urge you guys to join the fresh Korean dessert bingsu at Snowstory! Ranging from a wide variety of choices, you get to choose your favorite Mango, strawberry, matcha, caramel espresso, and the usual injeolmi and pat bingsu! Let the smooth ice flakes slowly melt in your mouth, and then your heart. Color your average, humid day with a fresh scoop of bingsu now!
Address: No 1,Jalan Sutera Tanjung 8/2,  Taman Sutera Utama Johor Bahru
Operation Hour: 12:00 p.m. - 1:00 a.m.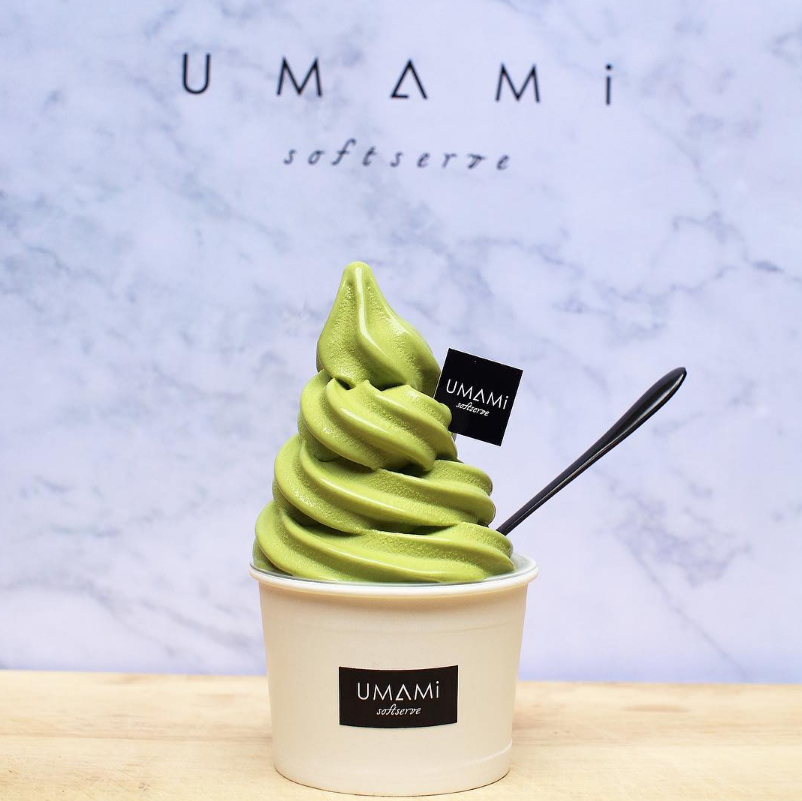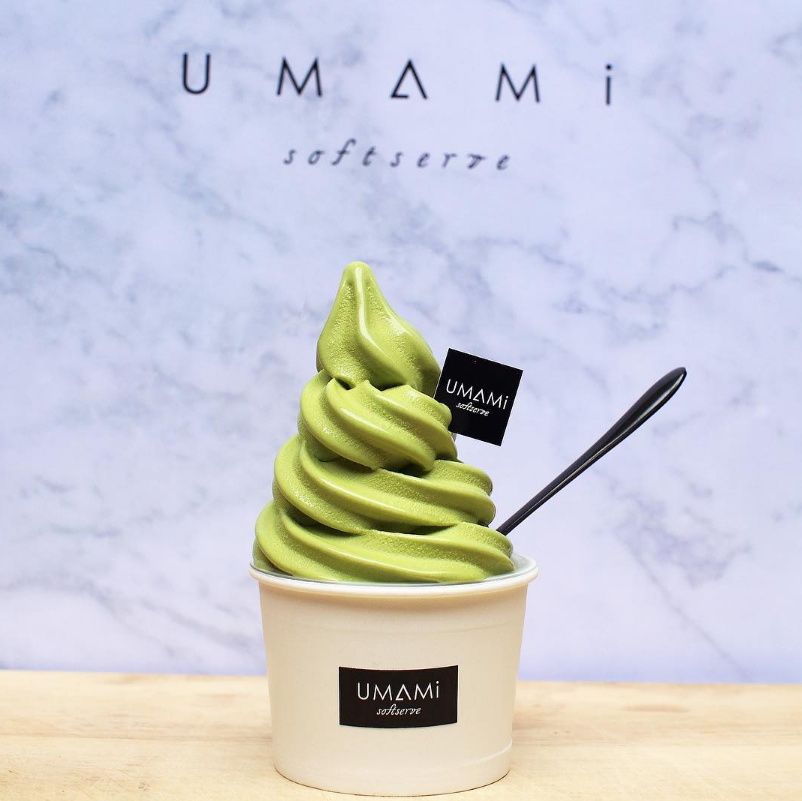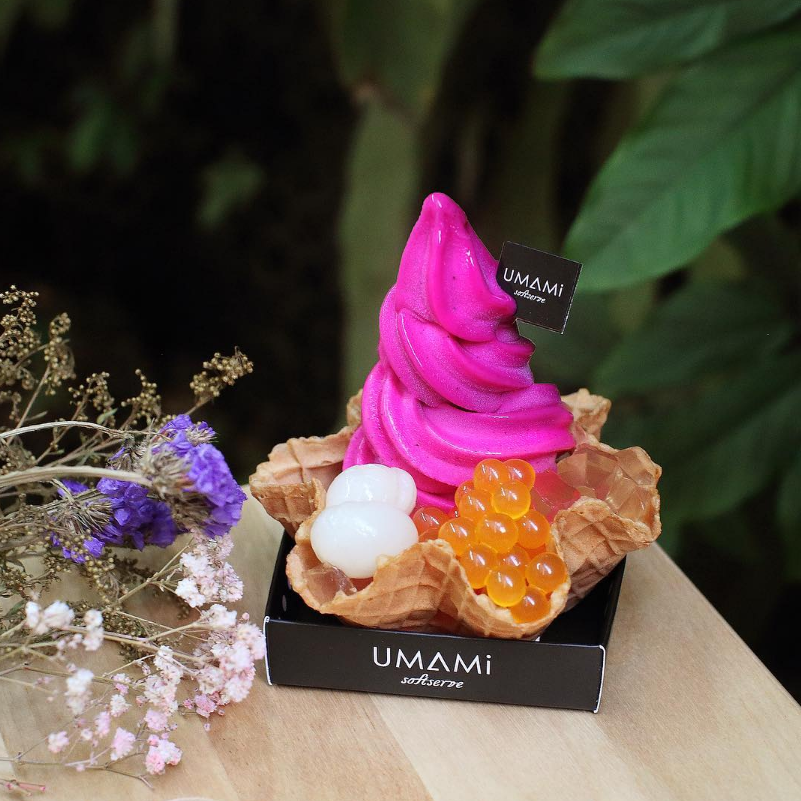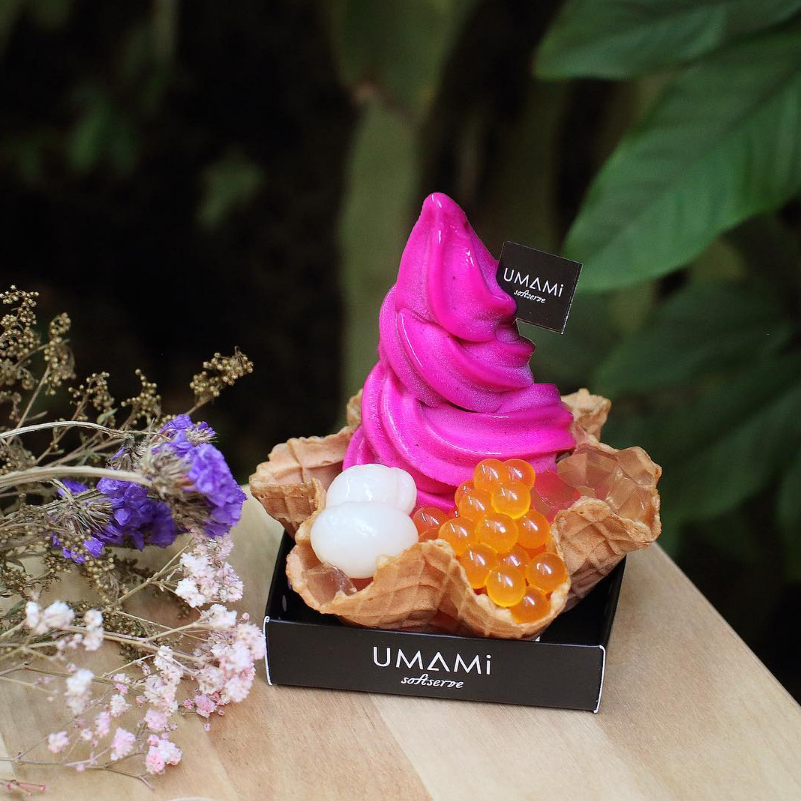 The premium softserve brand is now in Sutera Mall! Umami Softserve offers you the premium Uji Matcha that comes with high quality matcha taste! The Matcha softserve is deliciously smooth and most matcha flavored treats tend to be on the bitter side, but this matcha soft serve is much silkier. It is perfectly paired with crispy waffles crisp which substituted the usual softserve cups. Besides that, the softserve is topped with red beans and mini glutinous balls are just perfect! If you are not a matcha lover, you can even try out their premium Black Sesame softserve that will trigger your tastebuds with a superb taste and texture. Umami is constantly offering new flavors from time to time, so make sure you don't miss such good opportunity to savor on a well-made softserve while shopping your way in mall!
Address: L1 618, Sutera Mall (Opposite D'Laksa)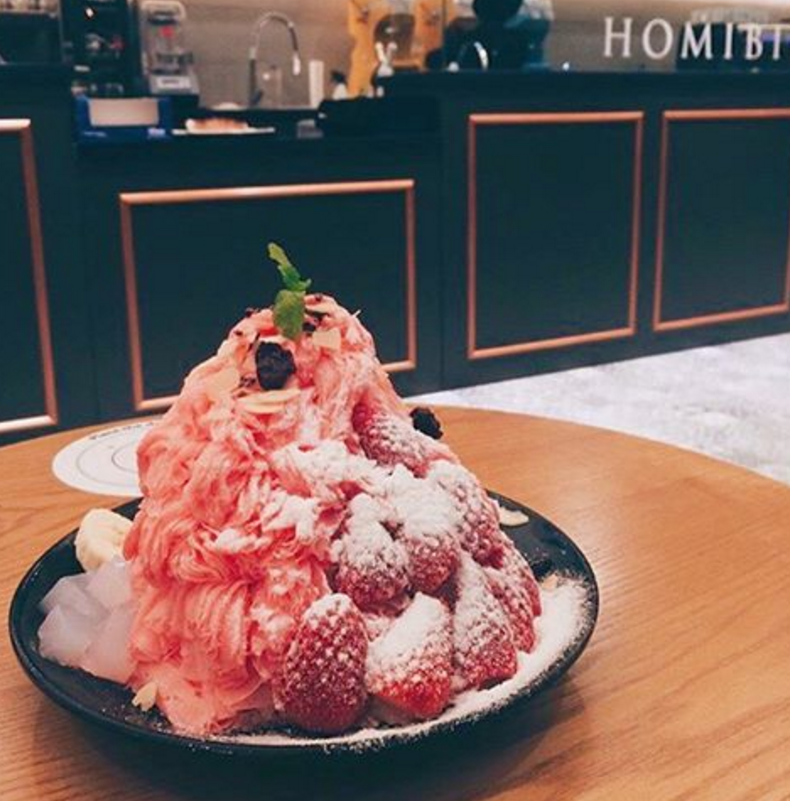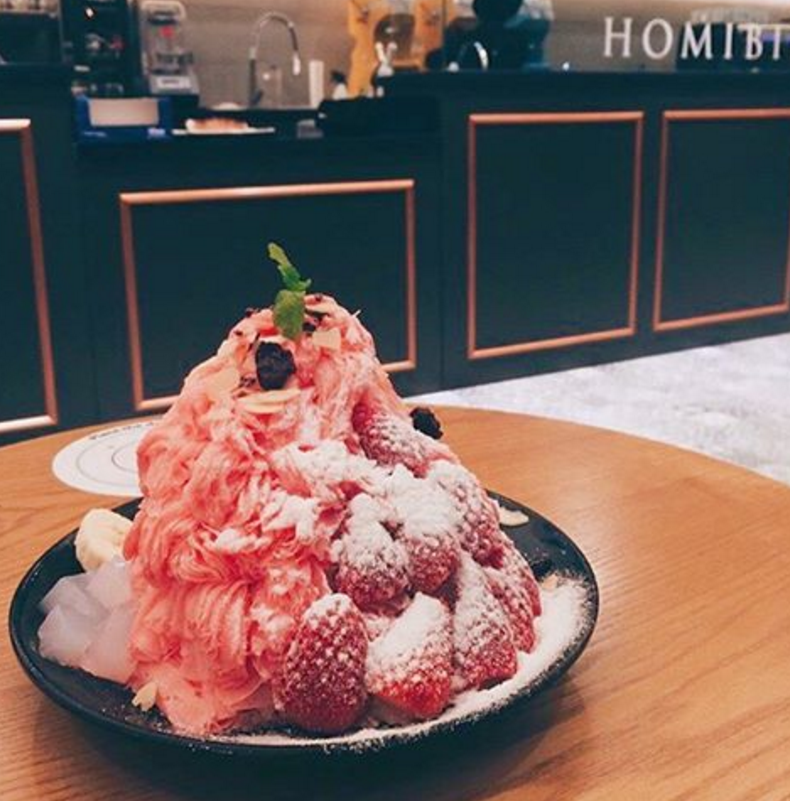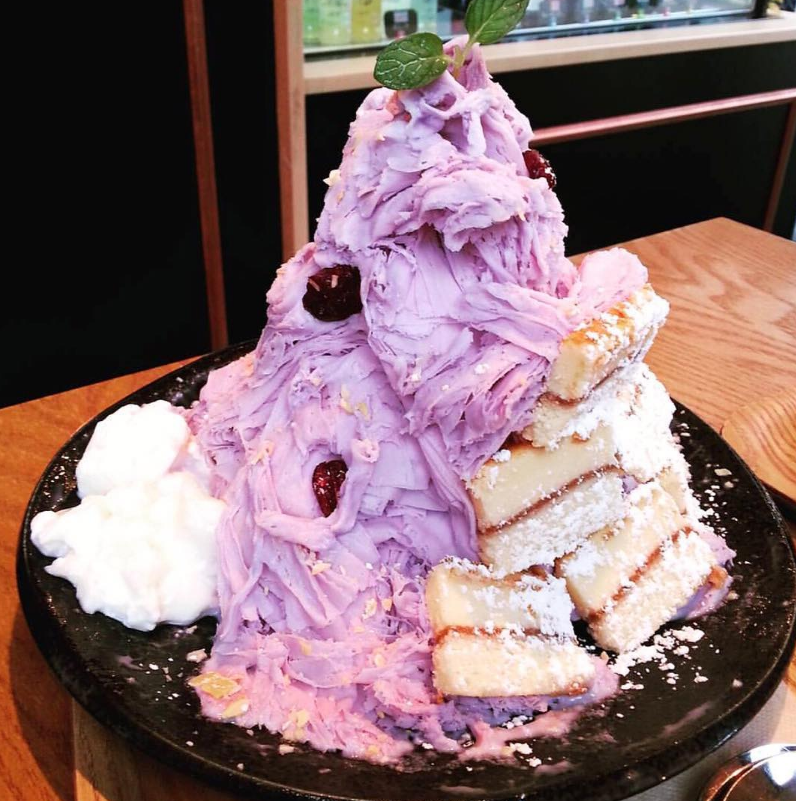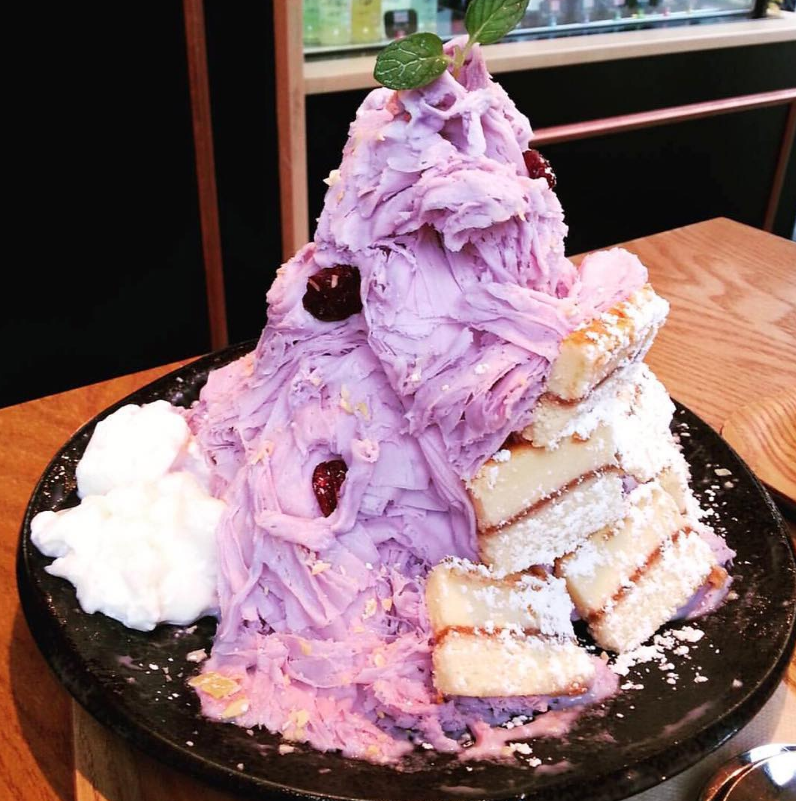 A place super perfect for dessert lovers especially with its grand setting! The aesthetically pleasing premium Korean dessert cafe -「 Homibing 호미빙」 made its presence right here in JB! Homibing serves quality ice flakes, tea and coffee for all seasons. Homibing is said to be one of the best shaved iced desserts in Korea by far! With its launch in JB, it would be the 3rd International location and 1st in Malaysia and South East Asia! For snow flakes lovers, this is gonna give you more than just pleasures because they don't skimp on the amount for sure. Flavors like melon, mango, strawberry, taro, chocolate, blueberry and injelomi can be found here!
Address: No. 40, Jalan Permas 15/1, Bandar Baru Permas Jaya, Johor Bahru, Johor
Operation Hour: 10am - 10pm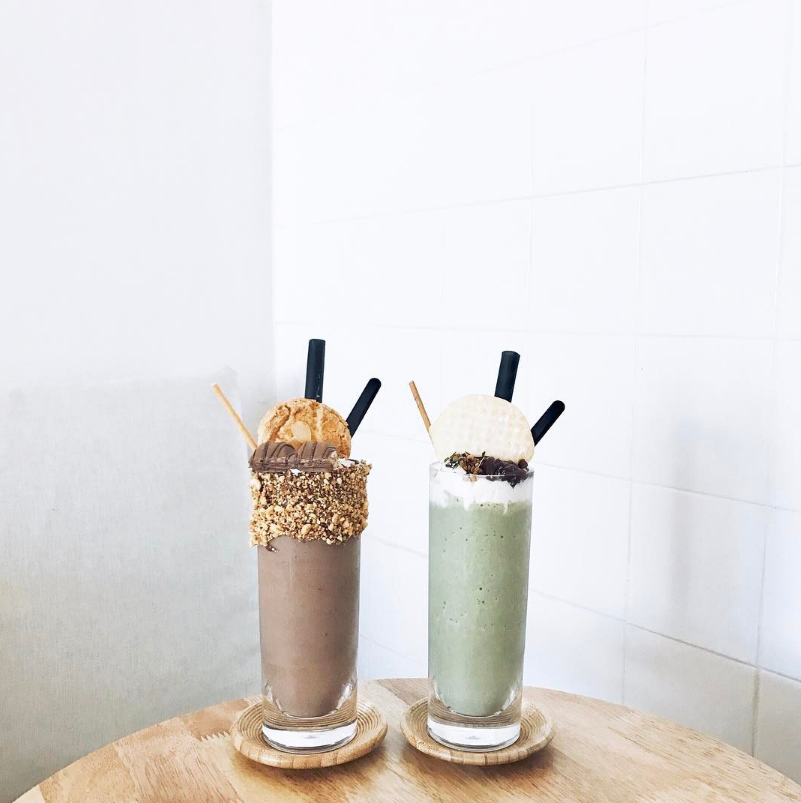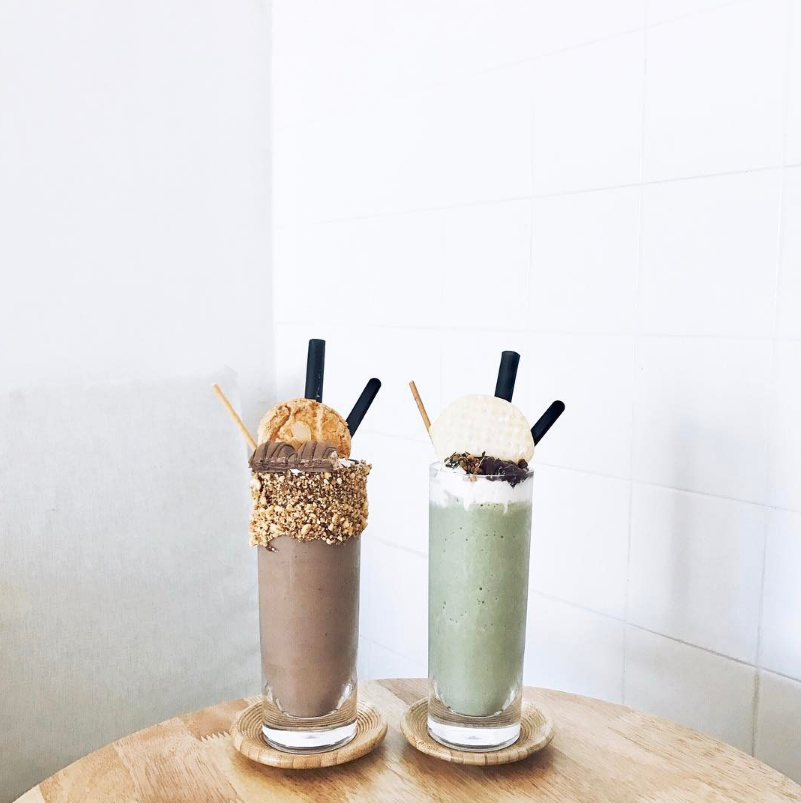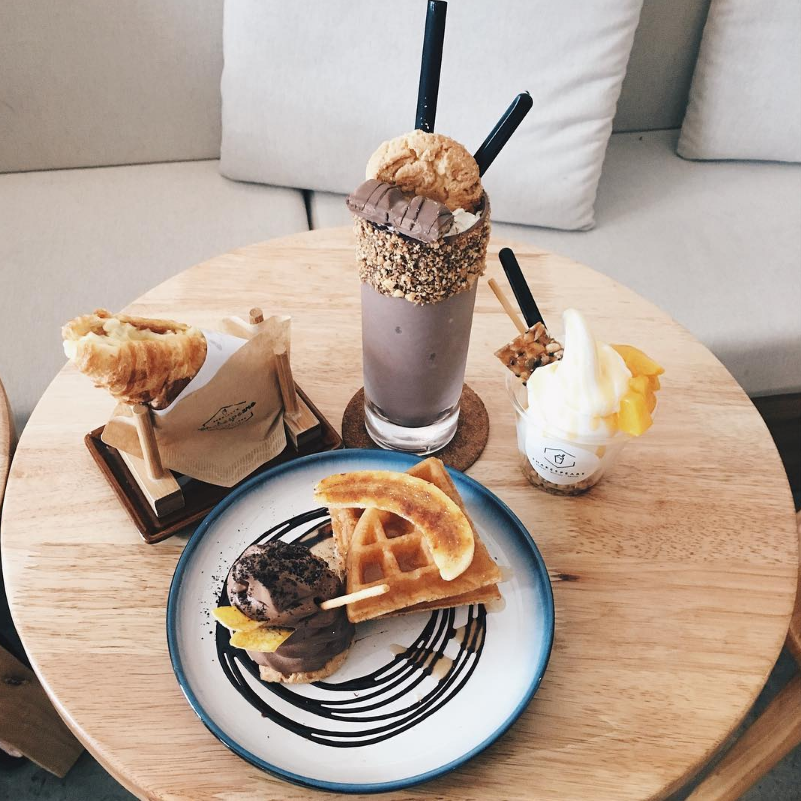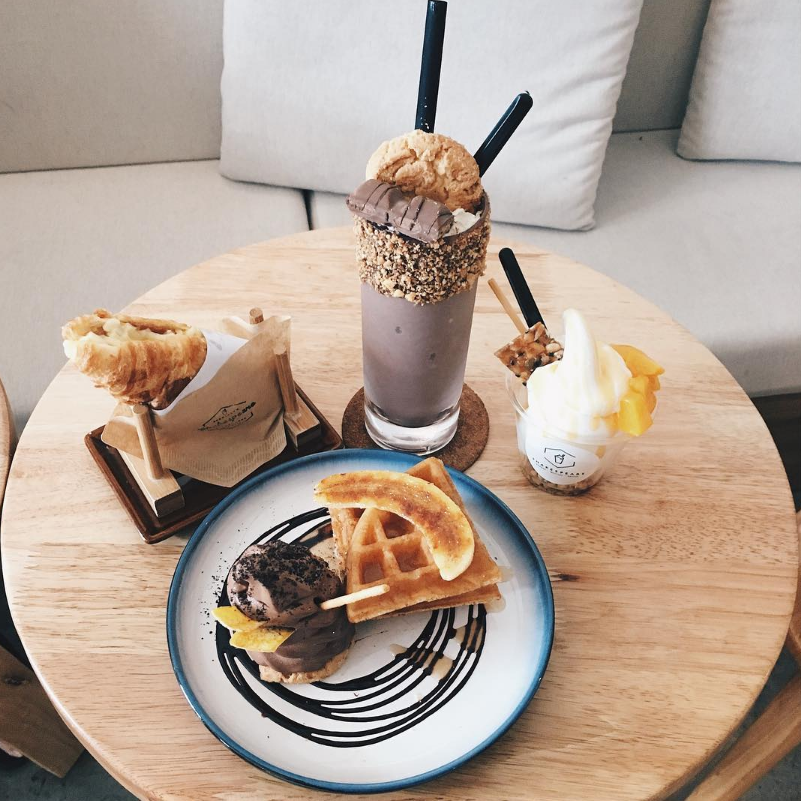 Shakespeare Milkshake is a newly added member in the JB town Cafe scene last year. Their milkshakes comes in 3 original flavors and 6 other specialty flavors which you may not be able to find in other places. One of the highly raved milkshakes is their Kinder Bueno Shakes which comes with their very own Dark Chocolate Ice-cream, Kinder Bueno Bar, nuts and topped with various toppings! It will be even more perfect if you try out their signature waffle with softserve! House-made softserve ice cream paired with the fluffiest waffle is the best combination ever! Dark chocolate softserve, brûlée banana and banana crisp! Apart from its special range of sweet treats, it is also a minimalist cafe which is definitely instagram-worthy!
Address: 9, Jalan Trus, 80000 Johor Bahru (Formerly ByGrace)
Opening Hour: 12:00 p.m. - 11:00 p.m.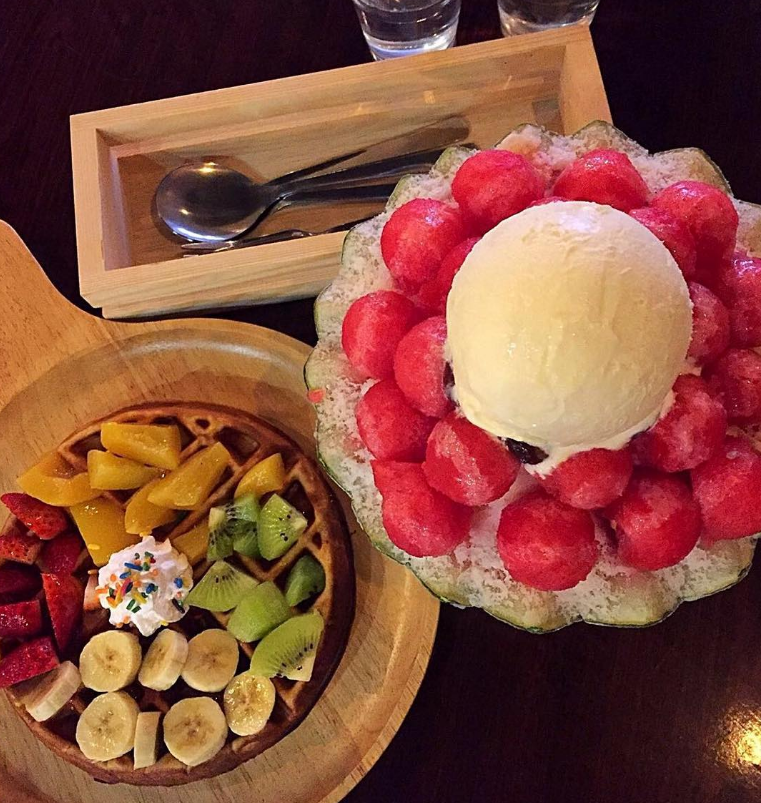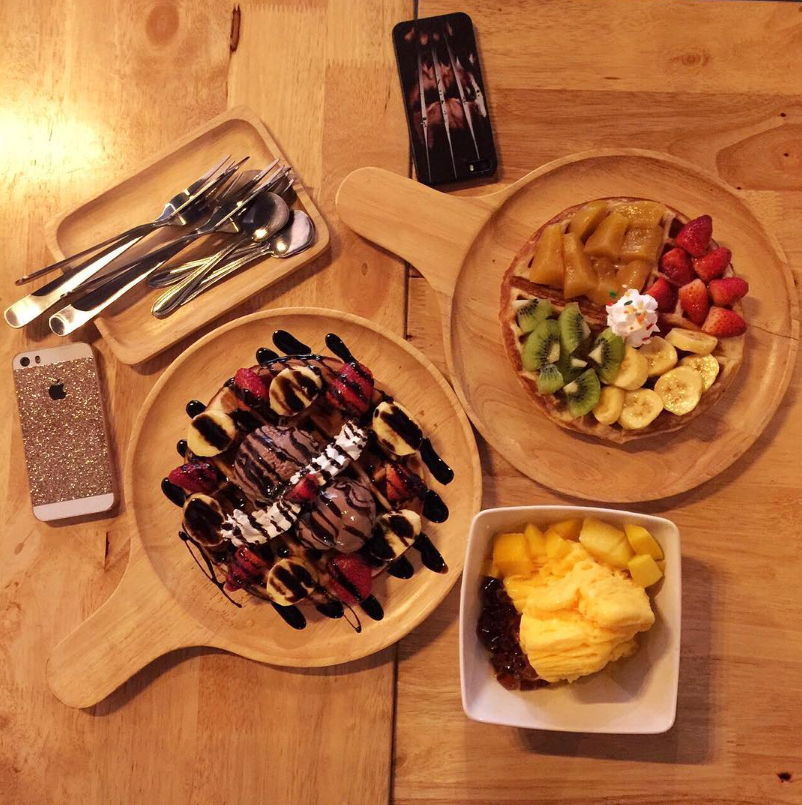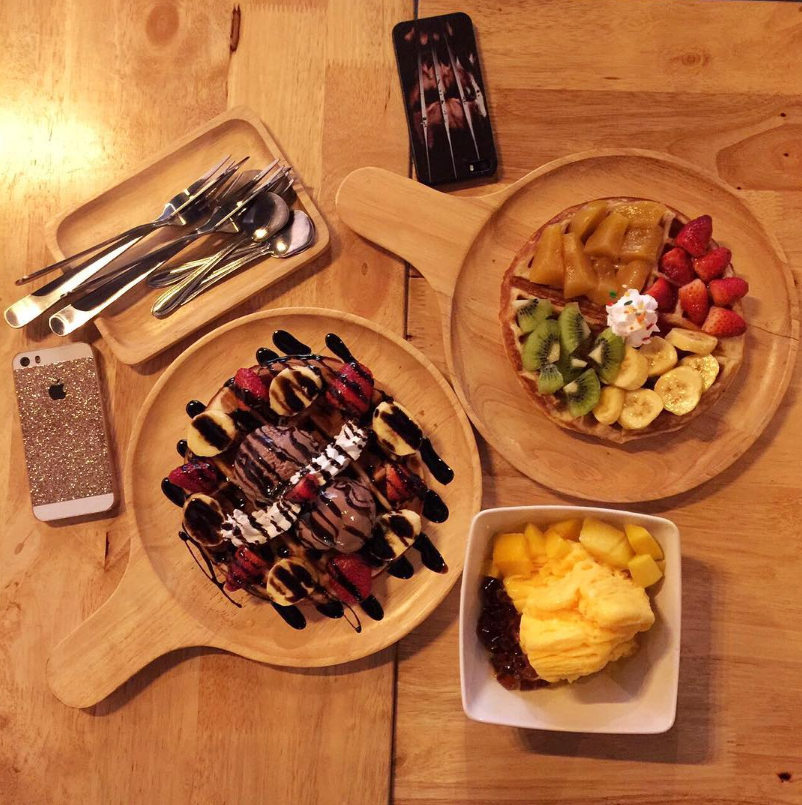 Being a Bingsu Specialist, Ice Age Dessert Cafe uses only 100% fresh milk for their shaved ice, which makes the flavor stronger and smoother in texture! It is said to be the only Bingsu shop in JB to have 15 different types of Bingsu. On top of that, they also offer waffles, toasts, fruity delights and finger food as well. It is a suitable place for family and friends to gather around for a good dessert session!
Address: 12 Jalan Bestari 6/12 Taman Nusa Bestari
Operation Hour: 1:00pm - 10:00pm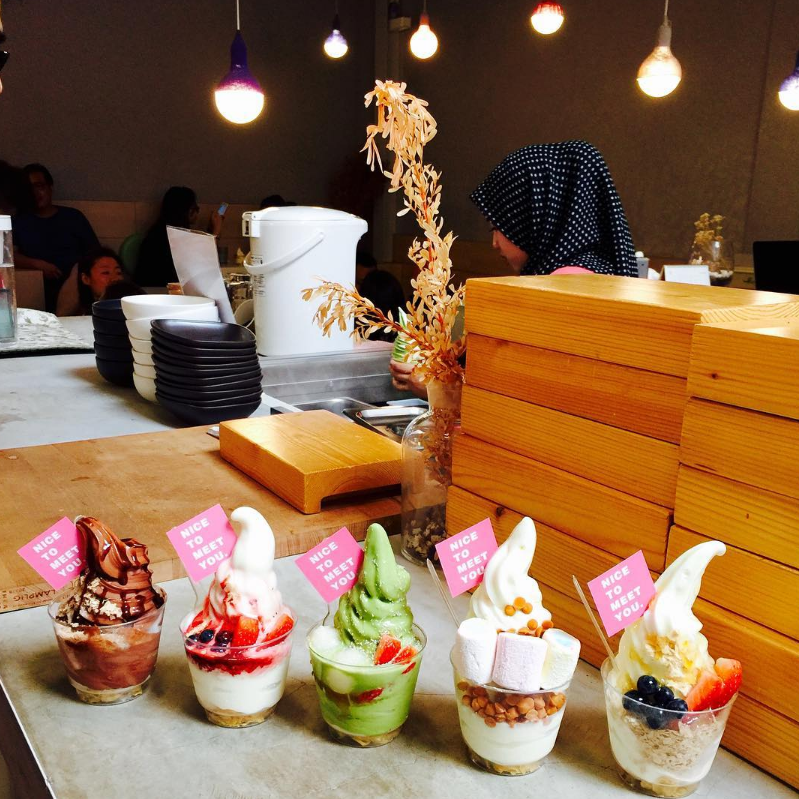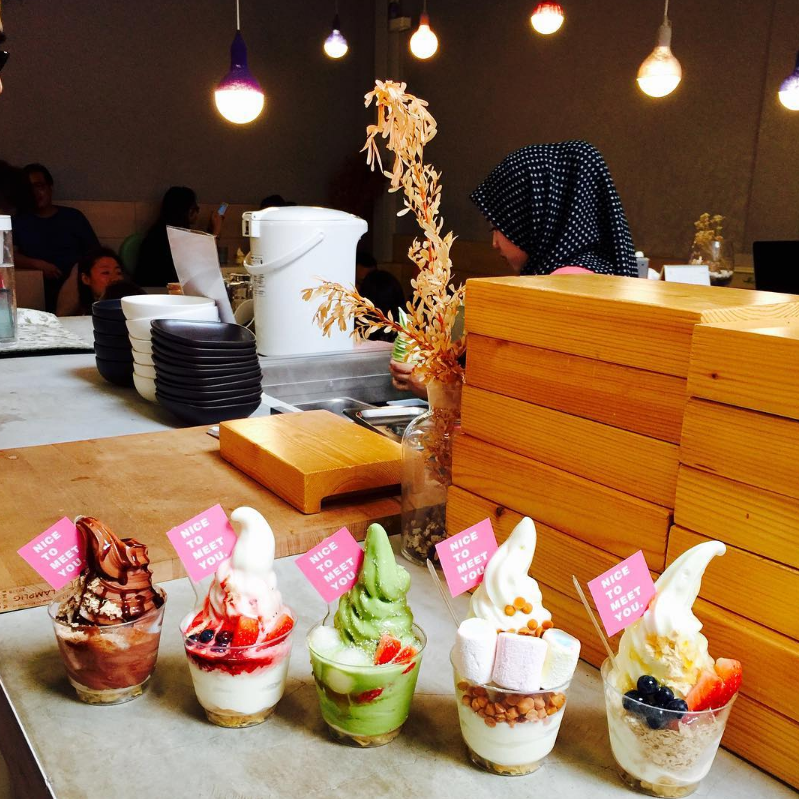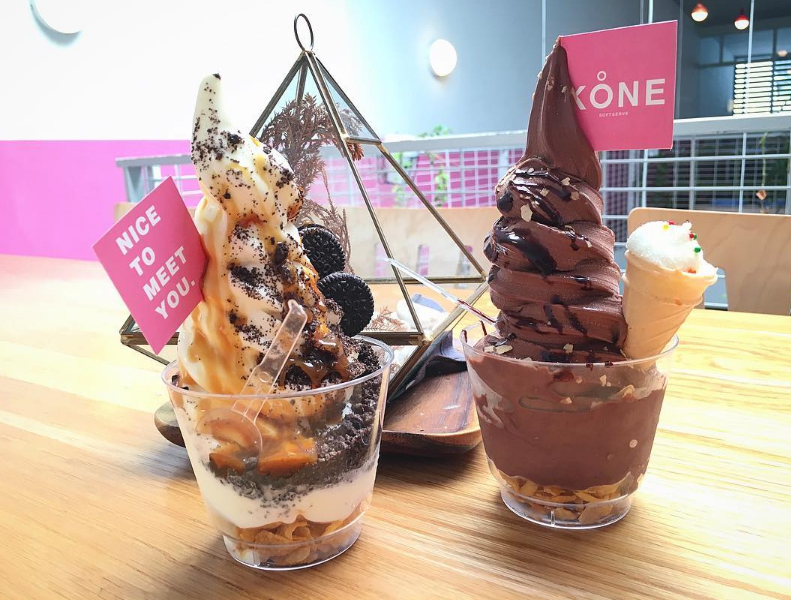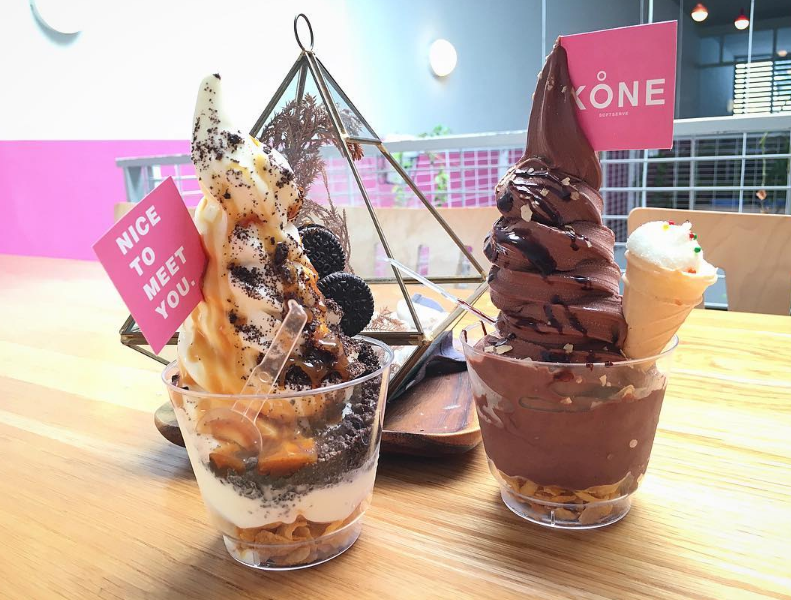 A pretty modern softserve cafe which have been around in JB for quite awhile since the mushrooming of cafe scene here. It caught many girls by its pretty heartwarming clad in an unmistakeable pink and instagrammable pretty softserve! Seize your opportunity to get your sweet tooth satisfied and take photos to flood your insta!
#9 Caffe Bene City Square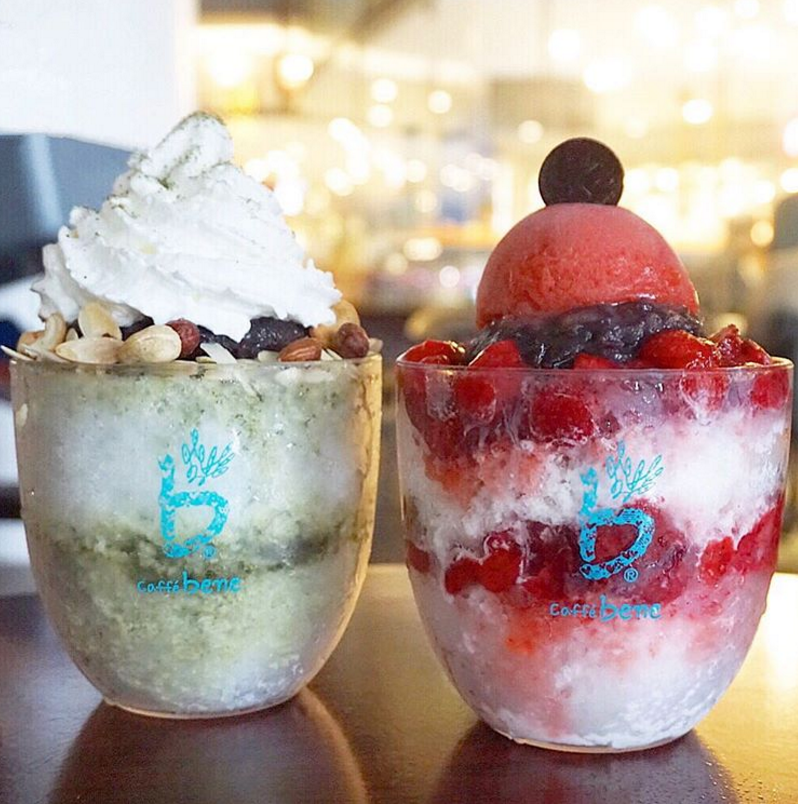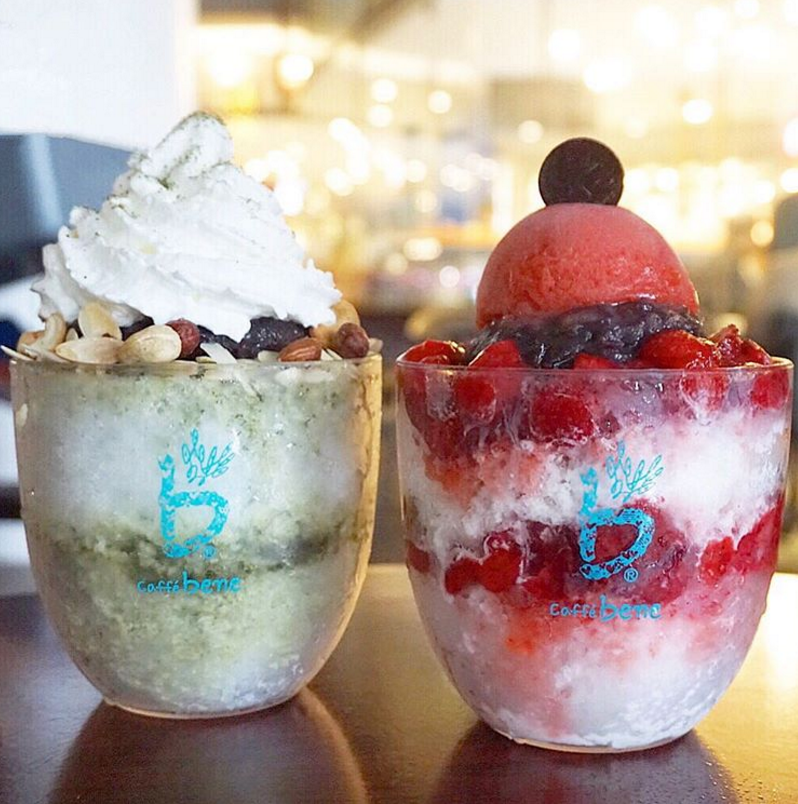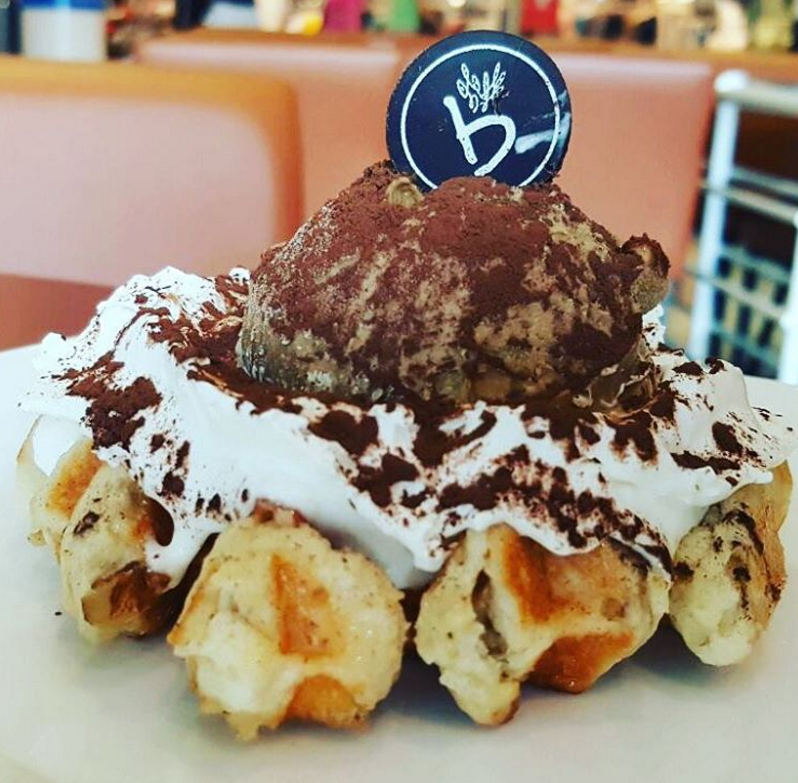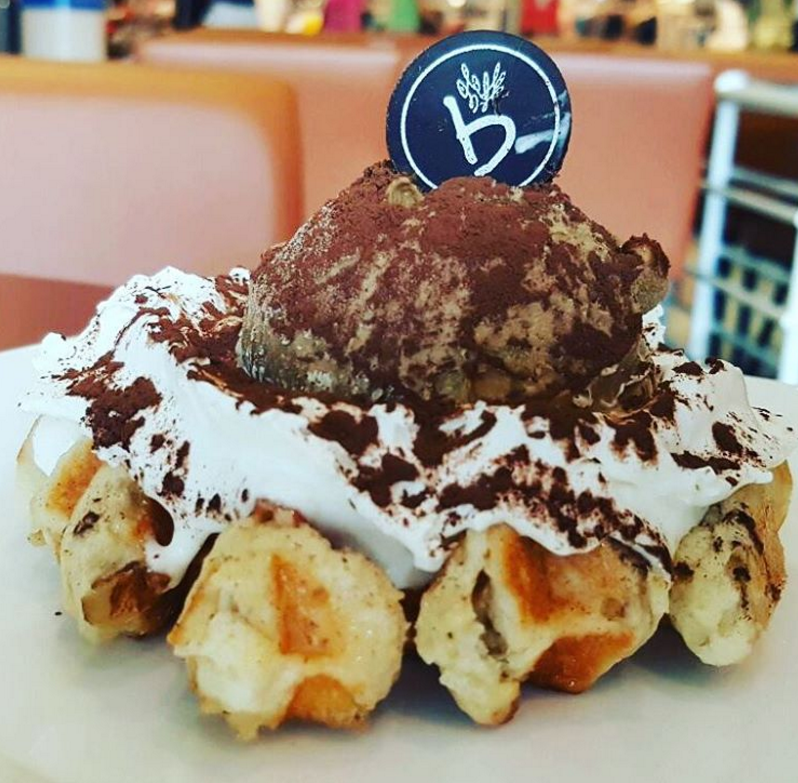 Shoutout to Korean Cafe fans! The popular Caffee Bene which is voted the best coffee brand in Korea had finally set foot in JB in City Square Johor Bahru! Caffee Bene serves coffee made from the world's best seasonally harvested fresh coffee beans to ensure you enjoy a truly exceptional cup of coffee! Caffebene also offers a wide array of items made from the authentic Korean Caffebene's recipe, with tweaks to suit our tastebuds, such as Bingsu, Belgian Waffles, Italian Gelato and Honey Bread! I am sure one of them suits you!
Address: L3, City Square, Johor Bahru (Next to MPH)
Operation Hour: 11:00am - 10:00pm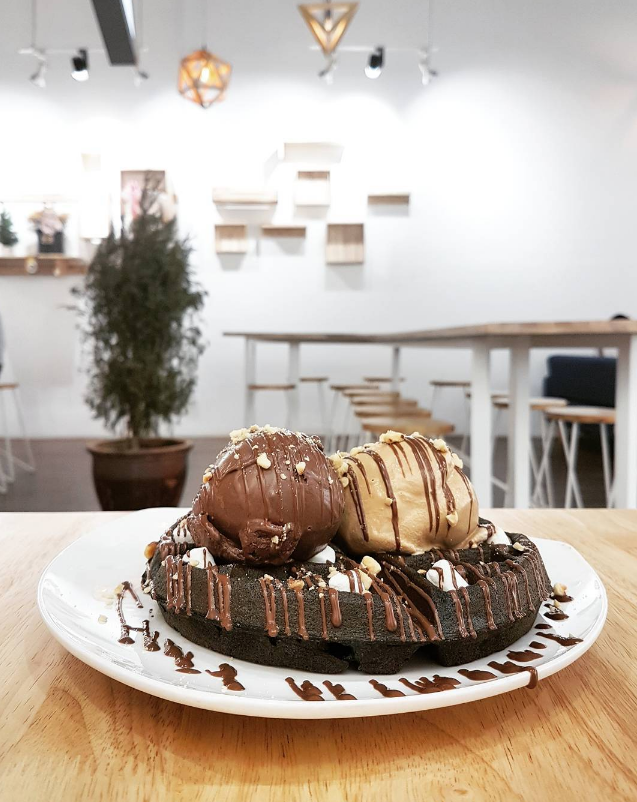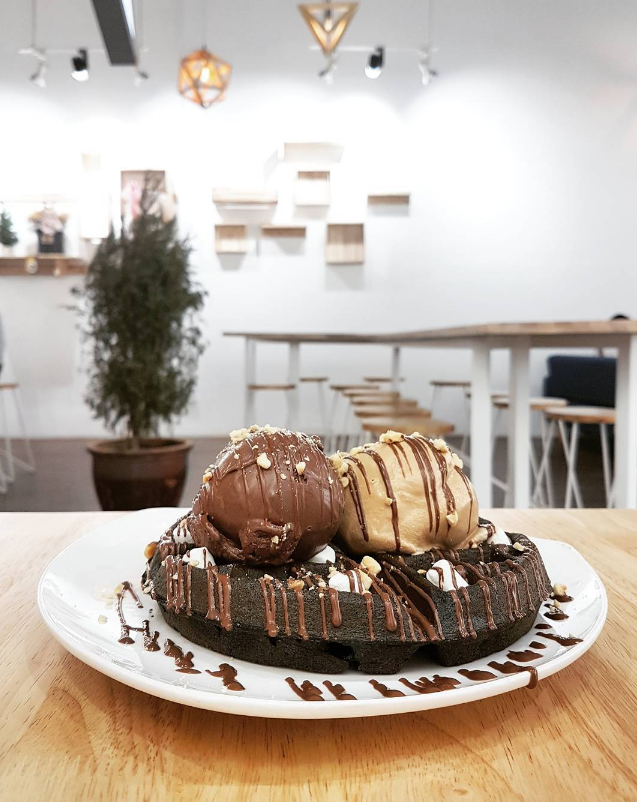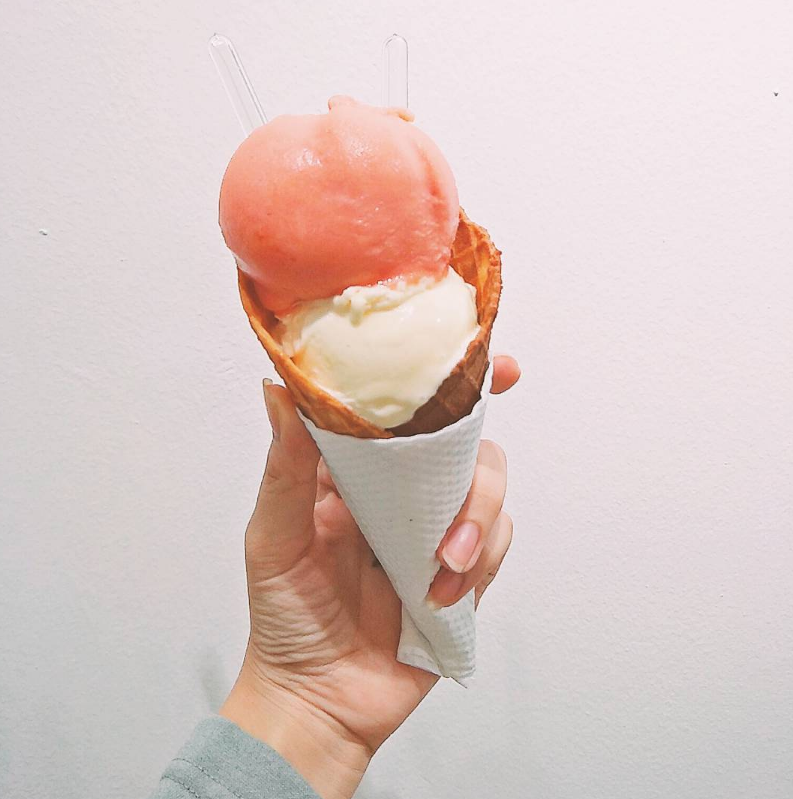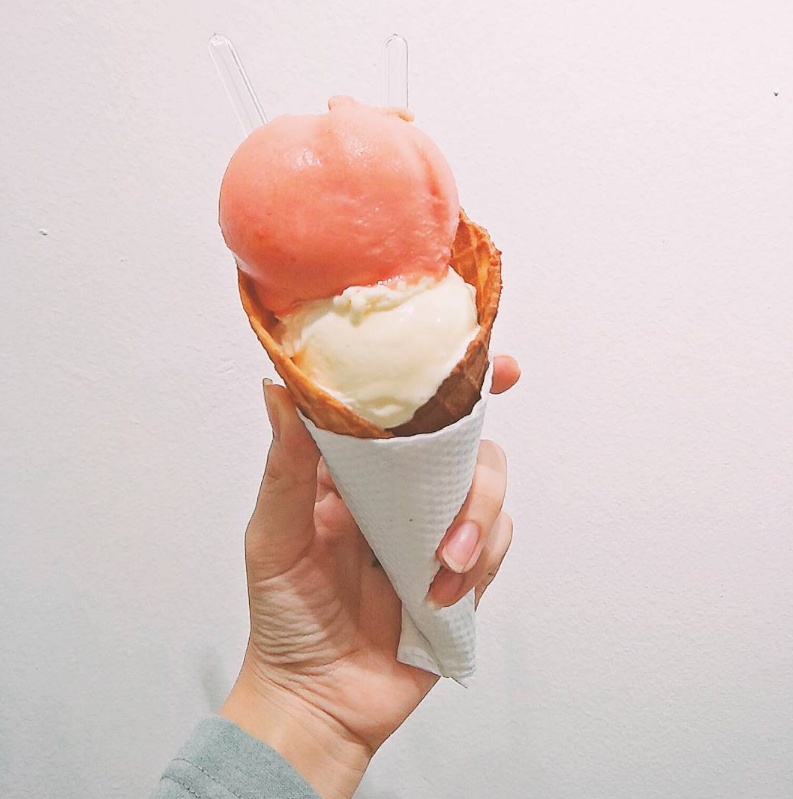 It has been getting positive feedback from many ice cream lovers since their first opening in Bangsar; many people are anticipating for its presence in JB! Yes, you are seeing it just right! The small and charming ice cream shop - Inside Scoop is already here in JB nestled within Sutera Utama! Inside Scoop offers a wide array of flavours ranging from premium Valrhona Chocolate, Nutty Nutella, Peanut Buttercup, Almond Butterscotch to the local favorite such as Cempedak, Durian, Cendol, Teh Tarik and even Milo Dinasour! Not forgetting the general flavors such as Hazelnut, Dark Chocolate, Cookies & Cream and so on! If you love waffles and ice cream, be sure to keep this in your list!
Address: 32, Jalan Sutera Tanjung 8/3, Taman Sutera Utama, 81300 Skudai, Johor (Opp Sugar On Top)
Operation Hour: 12:30pm - 12:00am
Comments
comments