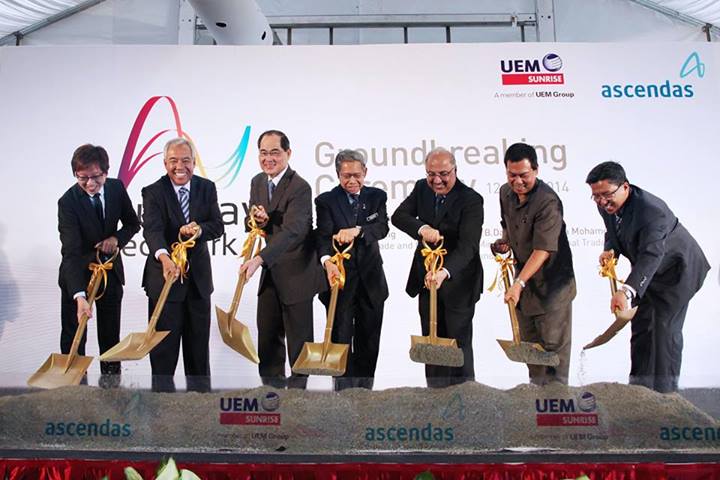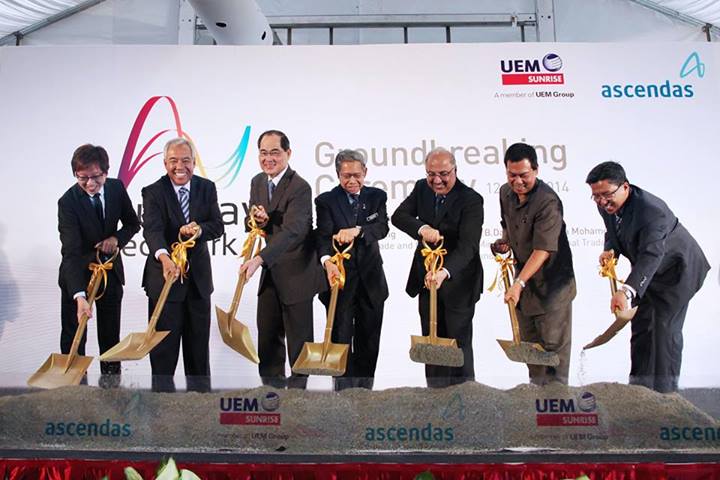 The trade ministers of Singapore and Malaysia yesterday emphasised that the Iskandar development region in Johor will complement, rather than compete with, Singapore's own manufacturing sector.
They stressed this at the ground-breaking ceremony of Nusajaya Tech Park, the 60:40 project between Singapore's Ascendas and Malaysia's UEM Sunrise.
The tech park, located minutes from the Tuas second-link expressway, allows Singapore companies looking to expand, as well as international firms looking to develop new supply chains in South-east Asia.
In urging Singapore companies seeking to venture overseas to consider Iskandar, Trade and Industry Minister Lim Hng Kiang said that the proximity of Singapore and Iskandar allows investors to "position their full value chain of business and manufacturing functions across both locations, hence spurring the development of complementary industries".
"With the right mix of industries and enhanced connectivity, there is potential for both countries to develop a seamless economic space," he added.
Speaking to the media later, Malaysian International Trade and Industry Minister Mustapa Mohamed remarked that the high-tech park is in line with Malaysia's objective of moving up the value chain to sustain its Economic Transformation Programme.
President and group CEO of Ascendas, Manohar Khiatani, told BT that the park is not intended for low-value labour-intensive activities, but mid to higher value-added activities that Singapore cannot contain due to its resource constraints. He likened it to a buffet spread before someone with a limited appetite.
"These activities that cannot be hosted in Singapore are equally valuable activities, and now they can be hosted in Nusajaya Tech Park, so it's like an extension of our industrial activity," he said.
Asked if international companies will prefer to locate in Iskandar over Singapore for affordablity reasons, he said: "There is clearly a trend of companies coming to Iskandar not just to arbitrage labour costs or operating costs, but to develop new supply chains in South-east Asia. Some of the end products are made in Singapore, so if they can get their suppliers who also make high value components to be based close by – whether in Singapore or Iskandar – then it just enhances the attractiveness of the whole value proposition."
The 210-hectare Nusajaya tech park will be developed in phases over nine years, although the start-up phase spanning 28 ha of ready-built facilities and land plots for build-to-suit developments will be completed by 2016.
When fully completed, the park is expected to yield nine to 10 million square feet of industrial and office space. It aims to cater to multinational companies and small and medium enterprises in growth industries such as precision engineering, electronics, light and clean manufacturing, and warehousing and logistics.
Already, the park has received 40 per cent pre-commitment for the ready-built facilities in the start-up phase. Mr Khiatani said a large proportion of them are Singapore-based companies, but German and Japanese firms have also expressed interest in the park. The marketing team is also going to the United States next month to promote the tech park and Iskandar region to investors.
Yesterday also saw precision engineering firm Sanwa Group of Companies, logistics and supply chain solutions partner YCH Group and Telekom Malaysia's info-communication technology unit, VADS Berhad, sign expressions of interest in the park.
The park's freehold facilities are mostly land-based factories, suited for chemical as well as marine and offshore engineering industries, but which tend to be limited in Singapore due to space constraints.
The park's facilities range from semi-detached units of 13,000 sq ft to detached factories of 42,000 sq ft, with prices averaging RM380 (S$148) per square foot (psf) – a fraction of Singapore's industrial land which transacted for S$320 to S$640 psf in the first quarter of this year. The tenures of plots in Singapore go up to a maximum of 60 years only, and even this was recently slashed.
Nusajaya Tech Park is actually Ascendas's first industrial project in Malaysia, a fact that Mr Mustapa acknowledged in his speech with a good-natured: "Better late than never!"
Source: Business Times
Comments
comments