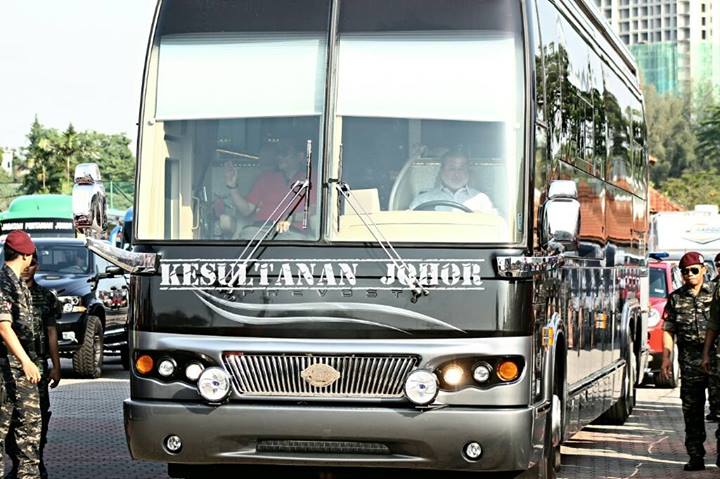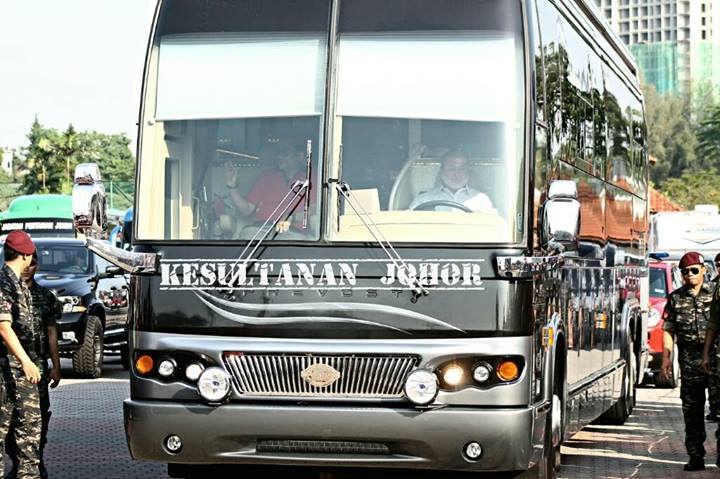 Sultan Ibrahim Sultan Iskandar of Johor today began his annual "meet-the-people" tour, this time travelling over four days to 10 districts by driving a bus.
The "Kembara Mahkota Johor" tour this year carries the theme "A Healthy Lifestyle" and will have the ruler driving a Prevost Marathon Coach over 860km. The sultan has also made the tour driving a train and riding a high-capacity engine motorcycle.
The tour was flagged off today at the Johor Baru City Square here by Johor State Assembly Speaker Tan Sri Mohamad Aziz. Joining the sultan on the tour are Raja Zarith Sofiah Sultan Idris; the Tunku Mahkota of Johor, Tunku Ismail; and other members of the royal family.
Menteri Besar Datuk Seri Mohamed Khaled Nordin, State Secretary Datuk Ismail Karim, Johor Baru mayor Abdul Rahman Mohamed Dewam and state government officers were present at the flag-off. The tour was initiated by the sultan in 2001 when he was the Tunku Mahkota.
In his speech before the flag-off, Mohamed Khaled said the tour helped to foster close ties among the palace, the state government and the people to consolidate the institution of the monarchy.
"This 17th tour can draw tourists to the state and we are happy that the federal government has recognised the tour as one of the major tourism events in the Visit Malaysia Year 2014 calendar," he said.
He said the tour would also help promote local products in the areas covered and realise the state government's policy of promoting one product in one district.
The tour is scheduled to make a stop today at the Mara Junior Science College in Seri Alam before moving on to Felda Bukit Permai and Taman Komuniti Bandar Tenggara near Kulaijaya.
The tour will proceed to the Panti Recreational Forest in Kota Tinggi and spend the first night in Kampung Sri Lalang, Mersing.
Numerous events have been arranged at every stop on the route, including the launch of a campaign to make Johor "smoke-free", aerobics exercises and an exhibition to promote a healthy lifestyle. Ice cream will also be distributed free to the people.
Sultan Ibrahim is also scheduled to hand over contributions from the Johor Islamic Religious Council and the Johor Social Welfare Department to those eligible for the aid.
Source: Bernama (text); Kesultanan Johor (pic)
Comments
comments