South Korea has expressed its increased interest in the proposed Kuala Lumpur-Singapore high-speed rail (HSR) project. According to a report by The Sun Daily, the Republic has engaged in talks with Malaysia on the matter.
Recently, South Korean Land, Infrastructure and Transport Minister Kang Hoin met with Malaysian Transport Minister Datuk Seri Liow Tiong Lai to discuss several matters, including the KL-SG HSR project.
"Yes, we certainly discussed the project. Liow welcomed South Korean participation," said Kang. However, it remains unknown who will win the bid to build the 350 km line that starts in Bandar Malaysia in Sungai Besi, and ends in Jurong East, Singapore.
"You guess. It is a long way to go," commented Kang. South Korea expressed its intent to bid for the project since last year. On a separate matter, the country also said it is willing to share its expertise on its metropolitan intelligent transport system (ITS) with Malaysia to further improve the transport and traffic system here.
A number of countries are lobbying for involvement in the HSR, including Japan, France, Germany, South Korea and China, but previous reports have indicated that China is in the lead to win the bid for the project. The HSR is expected to be completed by 2022, with the memorandum of understanding (MoU) to facilitate the project expected to be signed in July by Malaysia and Singapore.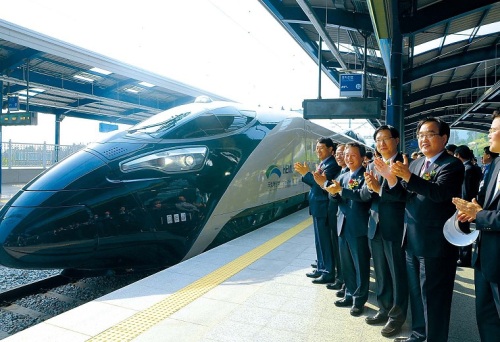 Comments
comments