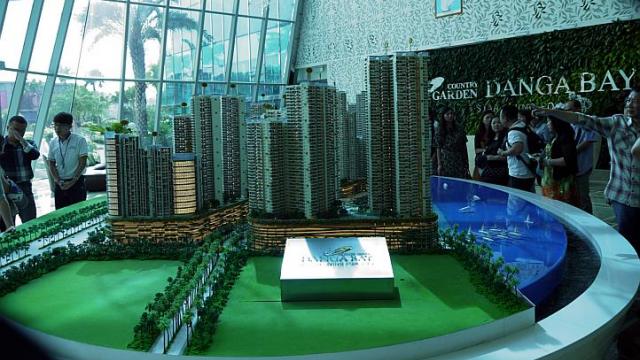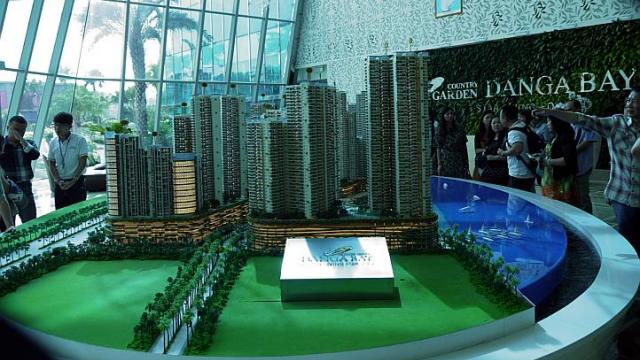 China's property developer Country Garden Holdings Co Ltd and Johor's economic development arm are in plans to develop over 2,000 hectares of reclaimed land in a project, which will include a man-made island, near the second link in Johor.
A study on the project, which will be developed over 30 years, was done more than a year ago.
In an interview with StarBiz, Country Garden's regional president for Malaysia project Kayson Yuen said the China-based company had studied the mega project, known as "Forest City", for more than a year before it decided to invest in it.
"We decided in the investment because the land cost was reasonable. I cannot remember the exact price but we have committed towards the project," he said.
Mr Yuen also stressed that the slowdown in China did not have any impact on their overseas ventures.
"This is because we are able to collect a bigger deposit for our projects in China and this helps with cash flow," said Mr Yuen.
In March this year, StarBiz reported that the Hong-Kong listed company was joining hands with Johor's economic development agency Kumpulan Prasarana Rakyat Johor (KPRJ) to build a massive man-made island near Pendas, Johor, for luxury homes.
"This will be a massive mixed development and the investment and commitment shows our confidence in the Malaysia market," he said, adding that it had hired local contractors for the reclamation works and engaged an Australian consultant who had reclamation experience at Sentosa Island, Singapore.
The man-made island that had started works, however, raised eyebrows due to environmental concerns, among others.
Country Garden intended to announce the project in March but held it back due to the incident of the missing flight MH370.
Mr Yuen conceded that the aviation mishap, which involved many passengers from mainland China, had affected sentiments of home buyers from that country but he was quick to acknowledge that the political rapport between China and Malaysia was strong and would help bring back relations to normalcy in time.
"It is only a matter of time before the confidence level of Chinese buyers recovers. We are still very confident with Malaysia's fundamentals," he said, adding that the company had studied this new market for a long time before penetrating into the country.
Malaysia is Country Garden's maiden overseas venture. But it is no stranger, having made headlines with its massive project in Danga Bay, Johor, that is estimated to have a gross development value of RM18billion (S$6.9 billion).
In August 2013, Country Garden attracted attention when it announced the sale of 6,000 out of its 9,000 units of condominiums on its development in Danga Bay. It attracted attention because a project of such a scale had not been seen in Malaysia.
It prompted allegations that the high take-up rate was due to huge discounts offered by Country Garden. There were reports that it even offered "buy-one-free-one" for its buyers from China.
Mr Yuen rubbished speculation that the company employed a "buy-one-free-one" approach to lure buyers.
"People who made those claims do not have knowledge of the property market. There is no logic in it," he said.
Apart from Johor, Country Garden also has projects in Selangor. In the Klang Valley, it plans to launch the project in Serendah with its 55:45 joint-venture partner Malaysia Land Properties Sdn Bhd (Mayland) this year.
The 67.58ha project has a gross development value (GDV) of RM1.5billion.
Its other project in Selangor is known as Diamond City in Semenyih. The RM2billion project, which was launched officially over the weekend, received overwhelming response with some 60 per cent of the offered units sold.
Country Garden Properties (M) Sdn Bhd managing director Chai Keng Wai, who also represents Mayland, said he was confident that the remaining units would be fully taken up in "a few weeks' time."
He said people had booked most of the units since the soft launch of the project last year.
Prices for its link houses, bungalows and mansions range from RM378 psf to RM430 psf while built-up sizes start from 2,300 sq ft to 8,600 sq ft.
The first phase of Diamond City sits on a 40ha tract and counts a clubhouse, a Spanish-style commercial street and an infinity pool as some of its facilities. Its selling points include its Spanish-inspired design as well as ready-built show village and amenities.
Country Garden is one of the top 10 developers in China and has more than 20 years of experience in township development.
Source: The Straits Times Asia
Comments
comments