Delight your Taste Buds with The Best South Indian Cuisine
With the wide-ranging Indian restaurants available in JB and mamak stalls plotted in almost every street, finding the best Indian cuisine is as good as looking for a needle in a haystack we kid you not! However, we've found one in particular that truly stands out and it's none other than Indian Kitchen - the newest brainchild of the widely acclaimed Spice Kitchen and the first Indian cafe you can find in JB, now you'll get to enjoy some quality-driven, deliciously authentic yet value for money Indian food in a contemporary café setting. Read on to find out more!
The FIRST South Indian Cuisine Inspired Café in JB!
What exactly is South Indian Cuisine?
You may wonder, isn't all Indian food the same? The answer is no, South Indian cuisine comprises of the five southern states of India: Andhra Pradesh, Karnataka Kerala,Tamil Nadu and Telangana. A typical South Indian dish is likely to be redolent with rice, various dals (lentils), stews, fresh vegetables and accompanied by light meals and tiffens(snacks) such as dosa, poori and idly throughout the day.
Cosy Cafe Ambience
The cafe culture in JB has been blooming in full force in recent years, however, a South Indian cuisine inspired one is definitely the first of its kind in JB! Once you step foot into the café, the cosy white theme and spacious interior sets an immediate tone for a casual dining experience and your senses will be drawn to the aromatic smells of Indian spices wafting from the kitchen!
Located in the Heart of the Fast-Developing Medini Township
Indian Kitchen is tucked away in the serene and tranquil surroundings of the up-and-coming Medini township. The café is strategically situated in close proximity to the regions of Bukit Indah, Horizon Hills, Legoland, EduCity, Newcastle University, Columbia Hospital, Pinewood Studios and Leisure Farm, so if you're around the corner, it's worth dropping by to give it a visit!
Great Emphasis on Consistency and Quality
Customer Driven Culture
Indian Kitchen encourages you to provide your constructive feedbacks or ideas on the comment card that is strictly reviewed by the management on a weekly basis in order to improve on its menu and services. The friendly manager and waiters are also more than happy to share a tip or two on the traditional yet fascinating Indian dining etiquette such as demonstrating how to make your very own Indian filter coffee and recommending that you eat with both hands in order to enhance your dining experience!
Guarantees Authenticity and High Standards
The chefs at Indian Kitchen are carefully handpicked from India and professionally trained to acquire the knowledge of Indian spices and master exemplar cooking techniques to ensure that each handcrafted dish is cooked to perfection! Furthermore, each dish is prepared using pure and all-natural ingredients and the finest gourmet spices in order to create a distinctive aroma and unforgettable texture that is consistent, authentic and healthy!
Indian Kitchen ▪ Our Top Picks
Sambar Vadai (Price)
This extremely appetising dish is presented with the savoury snack (vadai) soaked in the rich flavours of the lentil gravy (sambar) and when consumed together, the delicious mix of spices play out in your mouth creating a culinary nirvana!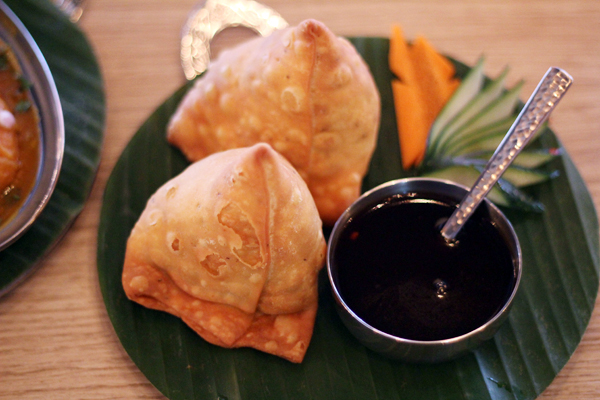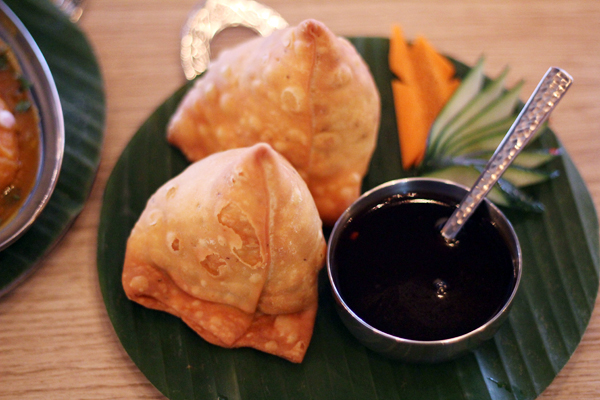 Lamb Samosa (Price)
The crispy outer shell of the samosa complements really well with the lamb fillings and sweet sauce, and if you're the type who is sensitive to the pungent smell of lamb, have no fear because there is absolutely none!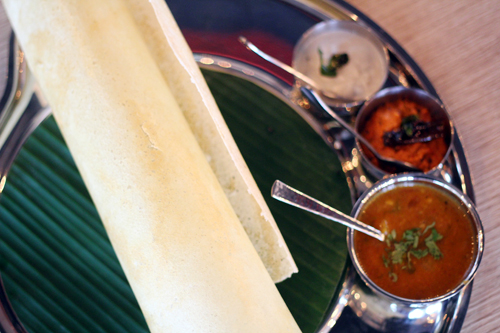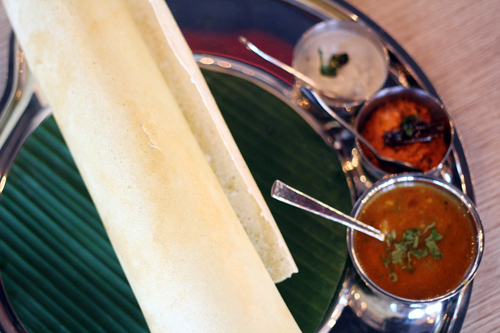 Paper Dosa (Price)
The shiny brown dosa has a thin and crispy paper texture and is literally larger than life! Tear a slice and dip it into the sambar or chutney sauce for a slightly sour and savory combination and dig in with your paws for better taste!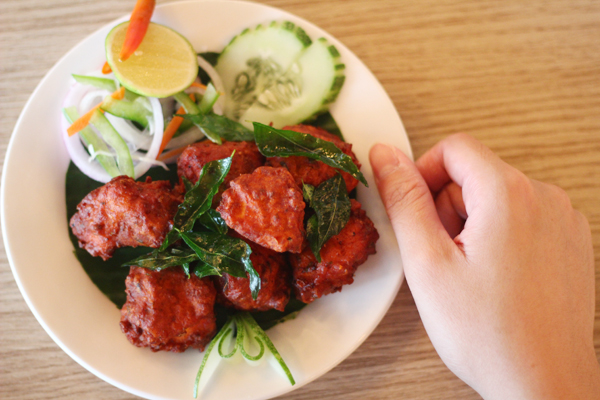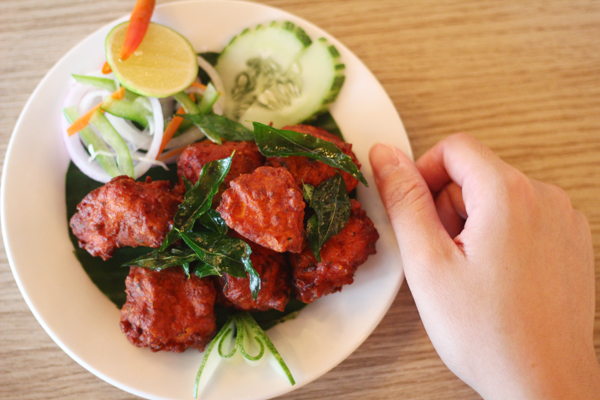 Chicken 65 (Price)
The deep fried chicken 65 has a crunchy texture and comes with punchy flavours of curry leaves, chillies, garlic and all the natural ingredients that make a classic Indian dish!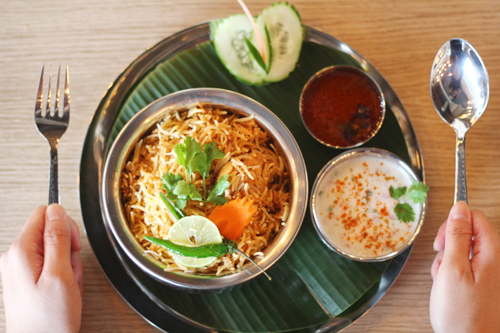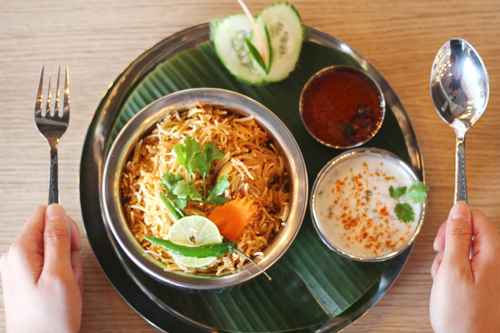 Chicken Biryani (Price)
The perfect fusion of the sweet scented aroma of biryani rice and succulent chicken meat exudes a pleasantly light and non-starchy texture!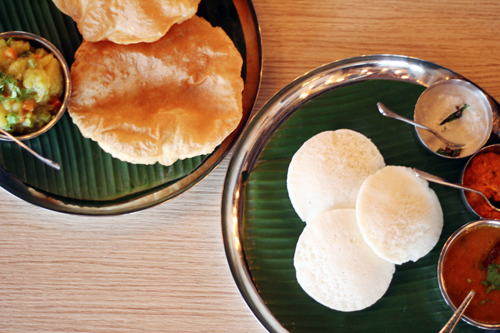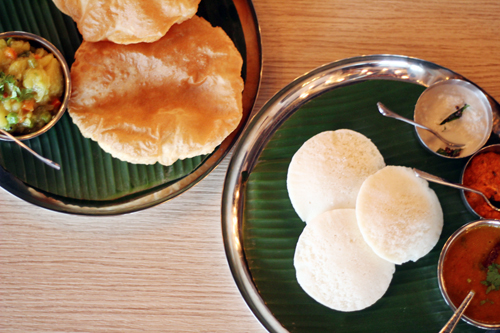 Left: Poori (Price), Right: Idly (Price)
The perfectly puffed poori is our favourite treat of the day as it comes in a whimsical shape and left us with endless surprises at every bite! If you'd like to go for something more soft and fluffy, go for the freshly steamed idly and be sure to top it with the healthy sambar sauce!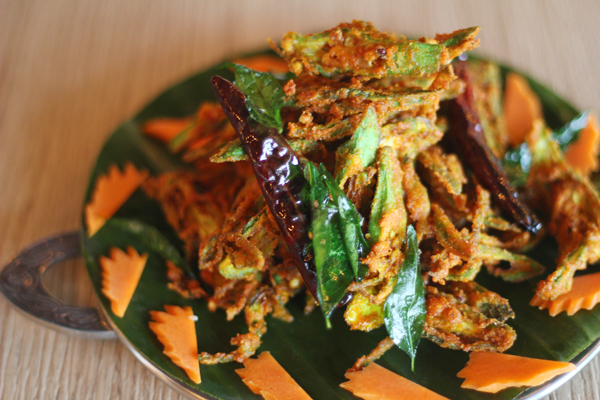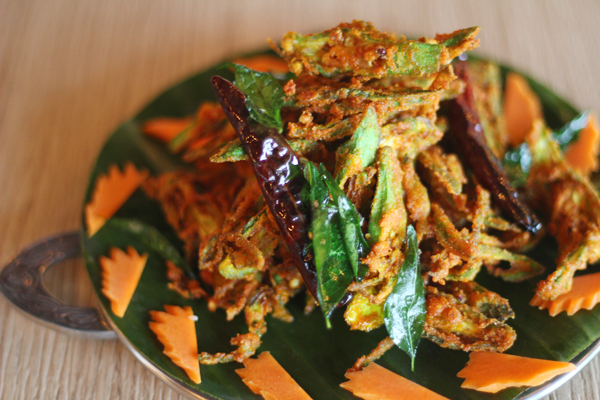 Crispy Ladies Finger (Price)
These addictive fritters are particularly hard to resist, where a perfect golden brown crispy exterior and the chewy texture of the ladies finger is yield, giving off an utterly delicious and tantalising fragrance!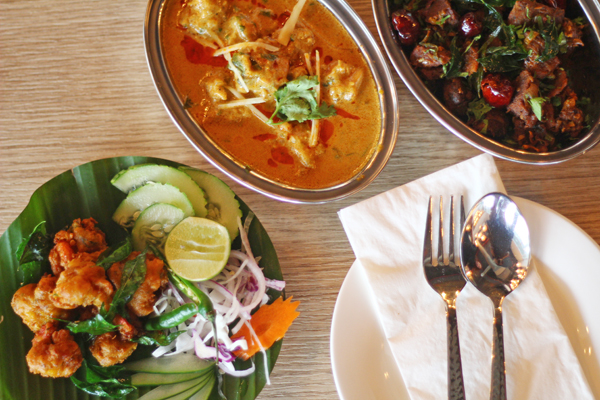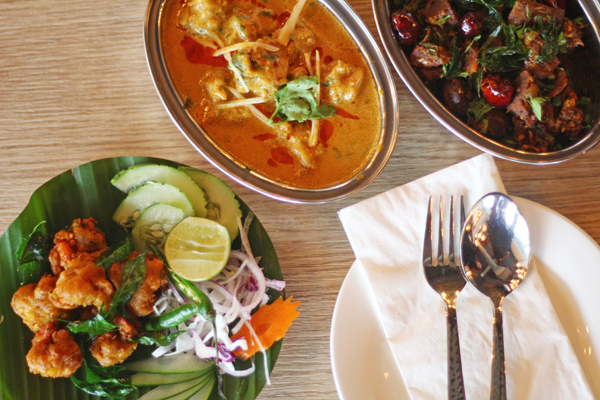 Left to Right: Malabar Fried Prawns (Price), Kerala Prawn Curry (Price) and Lamb Chukka (Price)
These fresh prawns that comes in the deep-fried form or soaked in curry makes a perfect compliment to a bowl of steamed rice, if you're not a fan of seafood, be sure to try the tender lamb chukka for a more adventurous option!
Opening Promotion of 50% Off
Enjoy 50% off your total bill when you 'like' and 'share' the Indian Kitchen Facebook promotion post on your Facebook page, and visit Indian Kitchen today while promotion lasts!
 Like Indian Kitchen on Facebook
Comments
comments