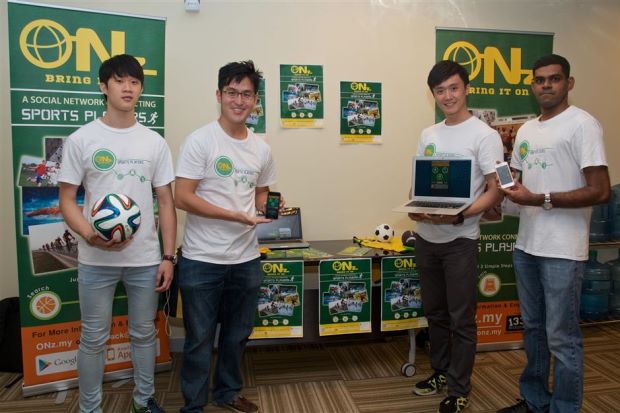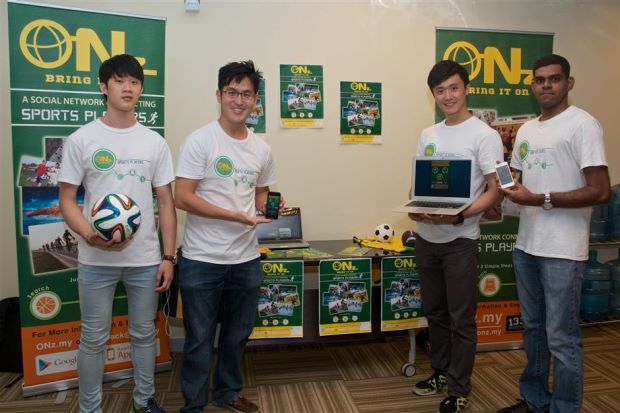 The Onz team includes (left to right) programmer Stanley Wong, founder William Yap, co-founder Justin Leo and programmer Muhd Zafeeruddin bin Mohd Sakriya.
Sports is a great way to socialise and have fun but organising a match can be challenging especially if you don't have enough players.
Which is why William Yap, Rob Lee and Justin Leo joined forces to work on Onz, a mobile app that will help you organise your own game or find nearby ones.
"Sports is a social activity. The problem is that most people tend to stick within their own circle, making it difficult to find players for sports like football and basketball," says Yap.
To coordinate a match, most people will use Whatsapp or Facebook Messenger. However, these platforms are not designed to do this which makes the whole process quite messy, he says.
To use Onz, a user will first have to log in with their Facebook ID or create an Onz account. After that they will see games within a 20km radius of their current location with info such as date, time, venue and number of open slots.
The user can then request to join a game and will be informed if their request has been approved by the organiser.
"It is a win-win situation for everyone. Players won't have trouble looking for games and organisers will not be short of players," said Yap.
Users will also be able to organise their own game which can be private or opened up to public. If it's private only friends on the user's Onz list and Facebook will be able to view the game.
Yap says he is working on adding more features such as the capability to book venues, gamification elements (like achievements) and voting system for selecting the best player of the match.
Yap expects to launch Onz for both iOS and Android devices on Aug 31.
Source: The Star
Comments
comments