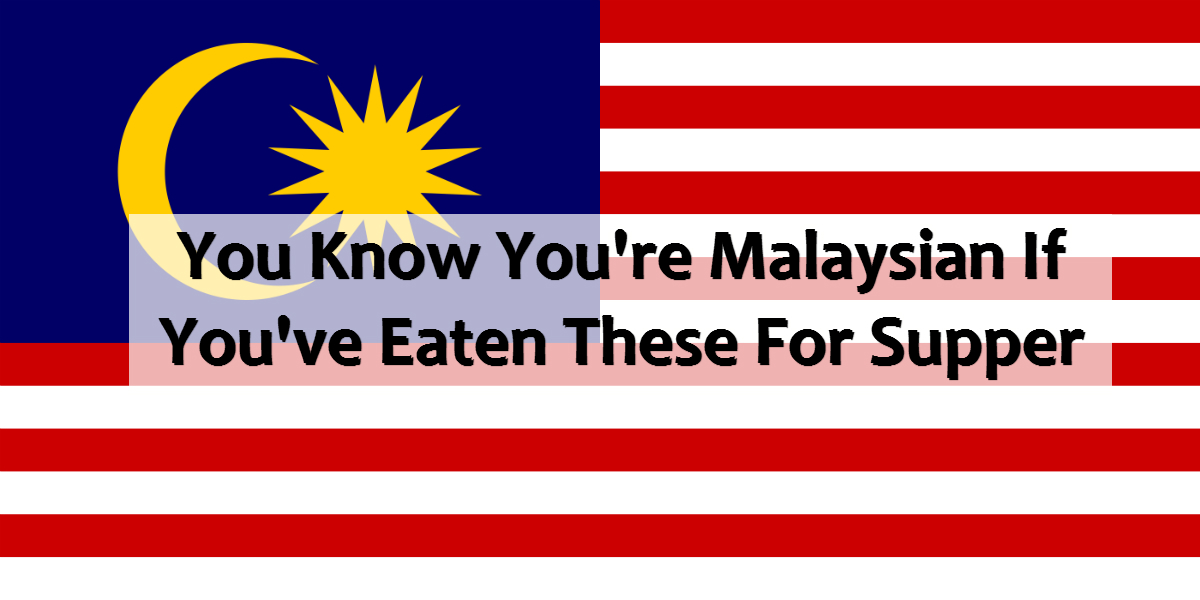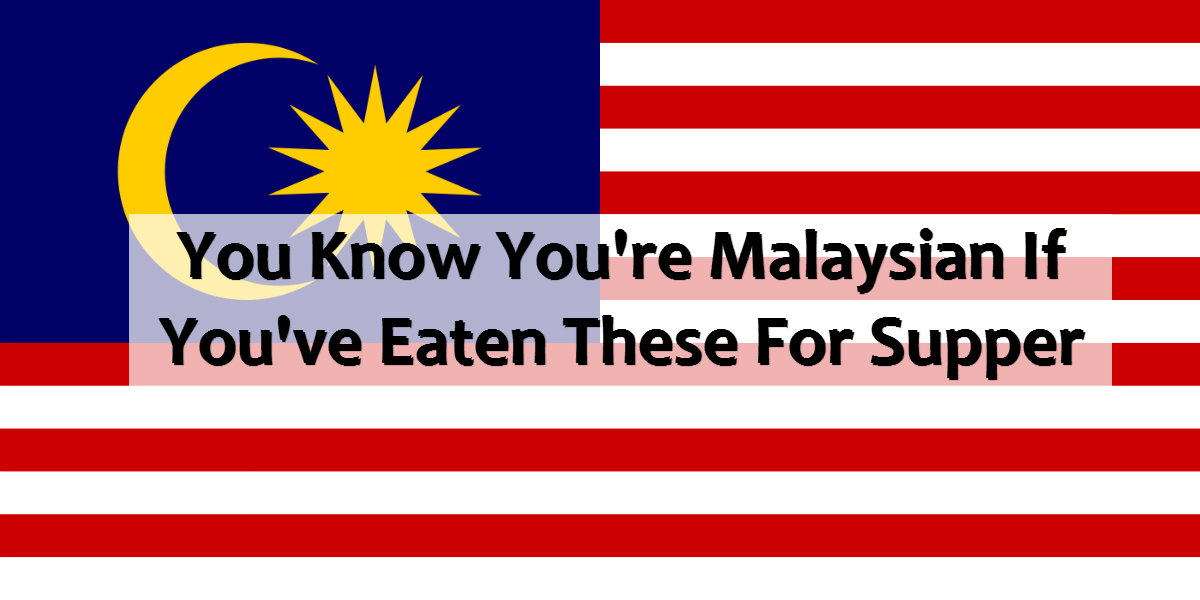 You Know You're Malaysian If You've Eaten These For Supper
It is no secret that Malaysians love having supper; it is the time we catch-up with our friends and fill up our constantly hungry tummy. Even our National Service Programme serves supper! I mean what is to life if we can't have supper right? So get a pen and tick the list of food below to check if you can proudly claim to be a Malaysian!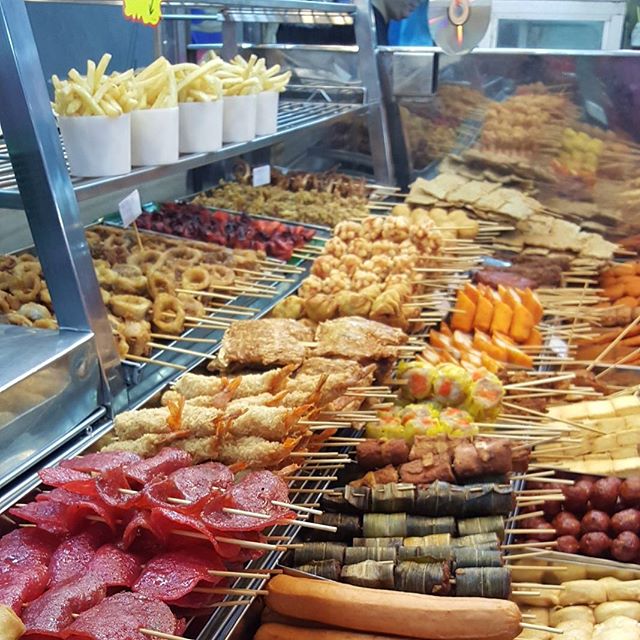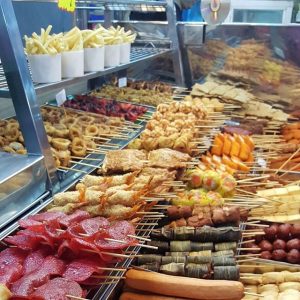 Most of these Lok Lok stalls are now with a food truck. No better way to spend the evening than enjoying lok lok with a cold beer 🙂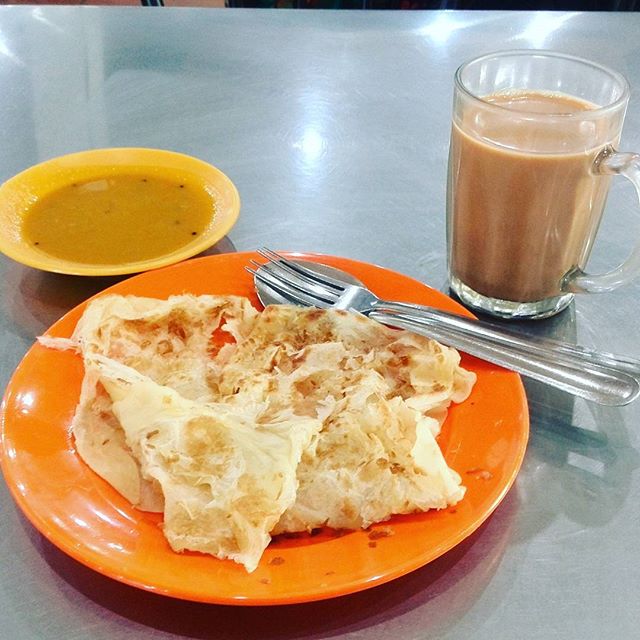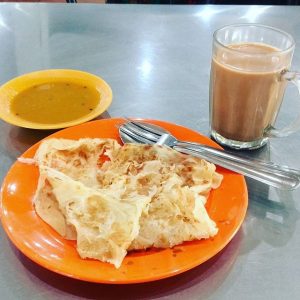 Whether you're young or old, fat or thin, or whatever your ethnicity is, you must have eaten Roti Canai for supper. I dare to say almost 100% of Malaysians have eaten at least one roti canai in their entire life. You just can't claim to be a Malaysian without having eaten roti canai for supper....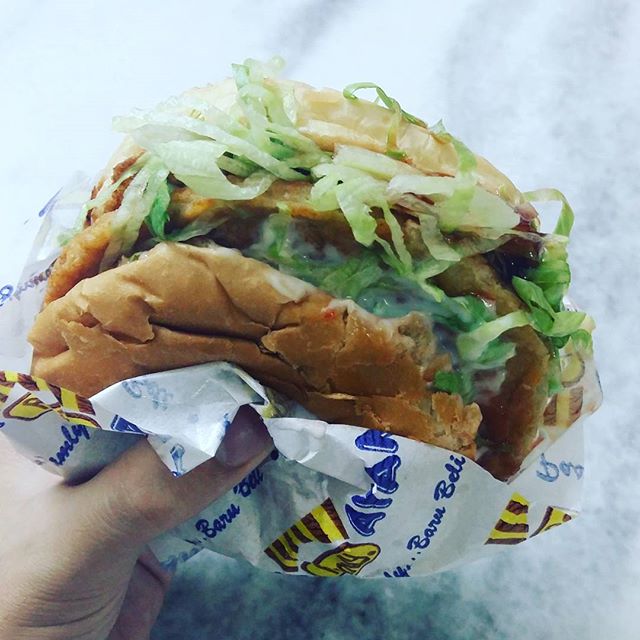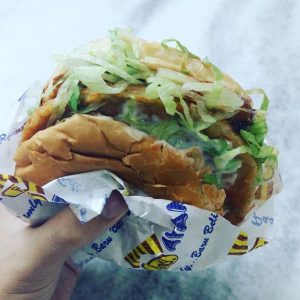 "Abang ramly burger special satu, tambah cheese, nak double, triple, quadruple.....".  You name it and abang will certainly tambah for you! For those of you who don't know yet, a "special" basically means an egg is added to the burger. If you're feeling adventurous, some stalls also offer deer, ostrich and rabbit burger.
I was told by a friend that Ramly burger is actually illegal in Singapore, (not sure why though) you guys (Singaporeans) miss out on LIFE man.....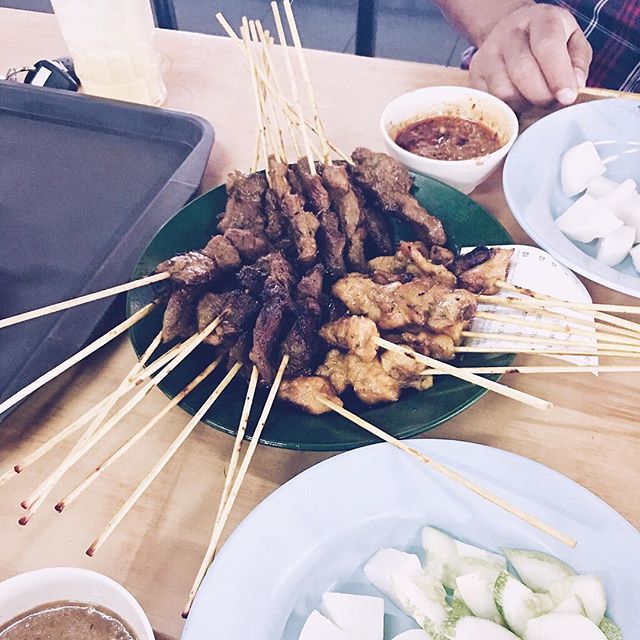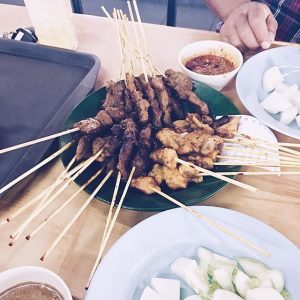 Skip all the unnecessary "gourmet satay" and go back to the basic charcoal grilled satay! With the delicious kuah, it's a truly Malaysian flavour! Nothing really beats a freshly grilled satay!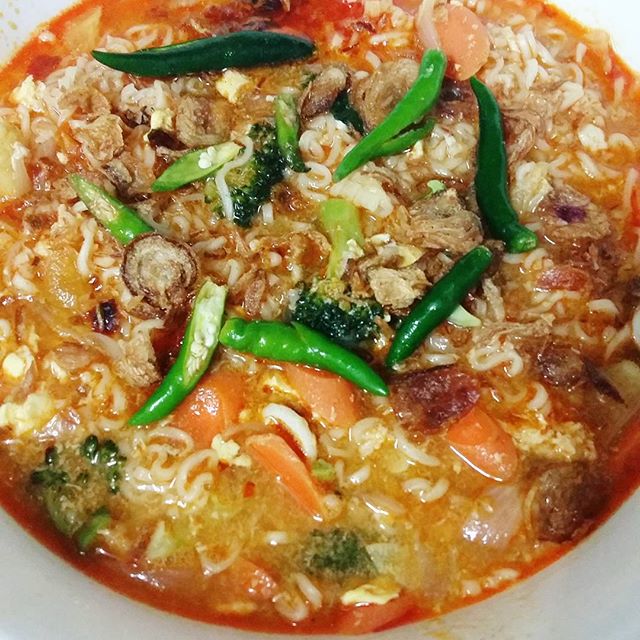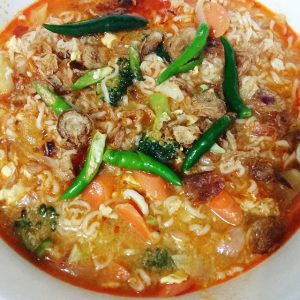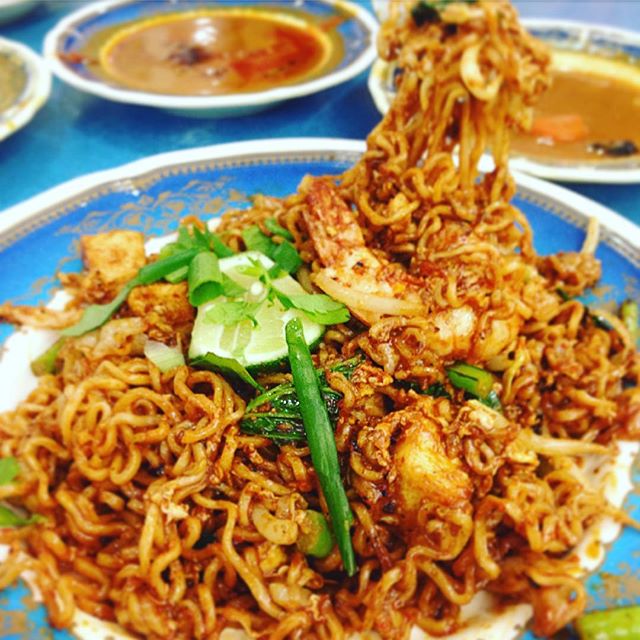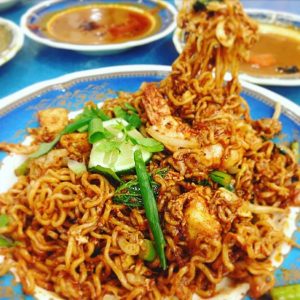 Whether it's maggi sup or maggi goreng, most of us have eaten it at home or out at mamak stalls. I still remember that during college, my housemates used to cook maggi sup at night after a "marathon" session of studying for exams..... and also cooking it with a kettle because of the hostel policy of no stove allowed....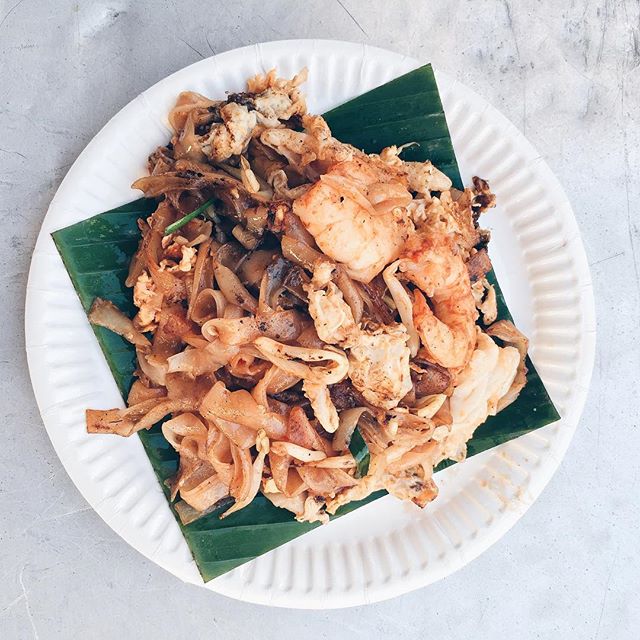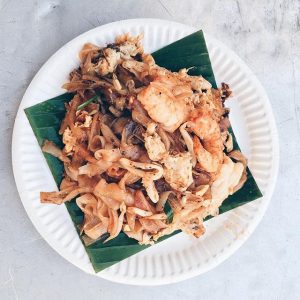 A common "dinner turn supper" for working class Malaysians after the extra hours at work when you'll just tabao it back home for your "dinner turn supper"..... Everyone has their own favourite char kuey teow stall. Do tell us at the comment section below on where's your favourite char kuey teow in Johor Bahru!
7. Cream cracker dunk in hot beverage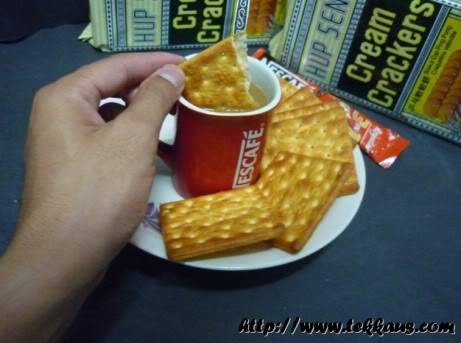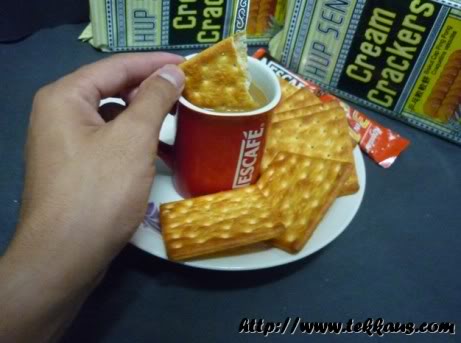 Whether you're poor or rich, all of us have done this before. I personally prefer dunking it into a 3-in-1 coffee, especially so when I'm having exams to have that extra dose of caffeine.
Everyone must have that awkward moment when you're about to eat that biscuit and it breaks into half after dunking it into the hot beverage.....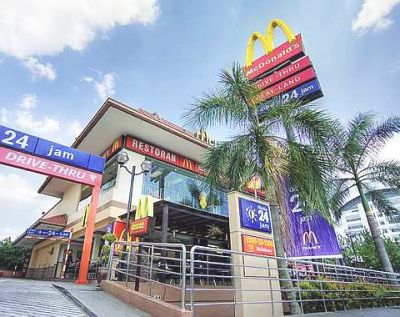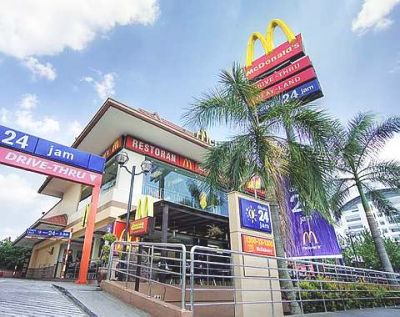 I bet most college students have done this before, whether it's discussing for that long-delayed assignments or just chilling with friends, not to mention the free refills they used to have.... With most McDonald's opening 24 hours, it is no surprise that Malaysians often have their quick supper over here.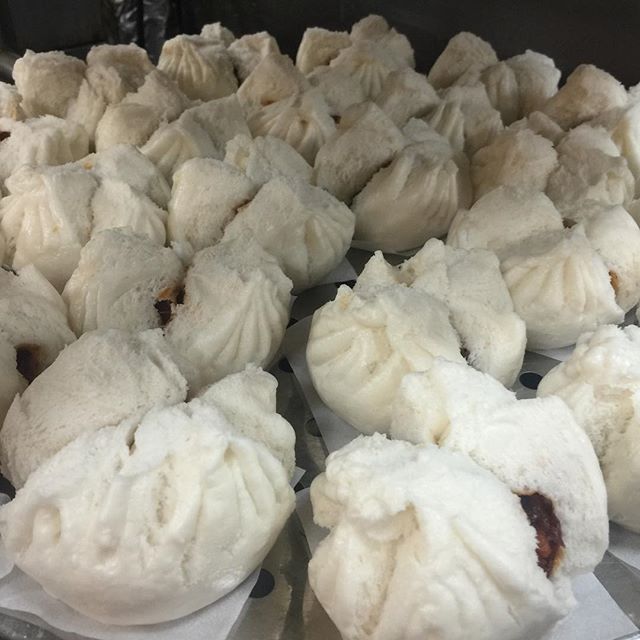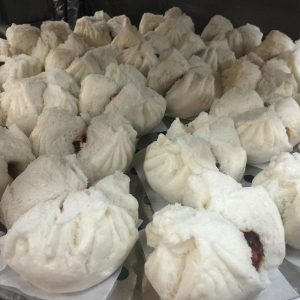 There used to be a lot of Pau stalls at night but nowadays I can't find any of it around my neighbourhood. My dad used to buy Chai Pau (vegetable pau) for supper whenever we went back to our grandmother's house, though I can't really recall the taste of it already......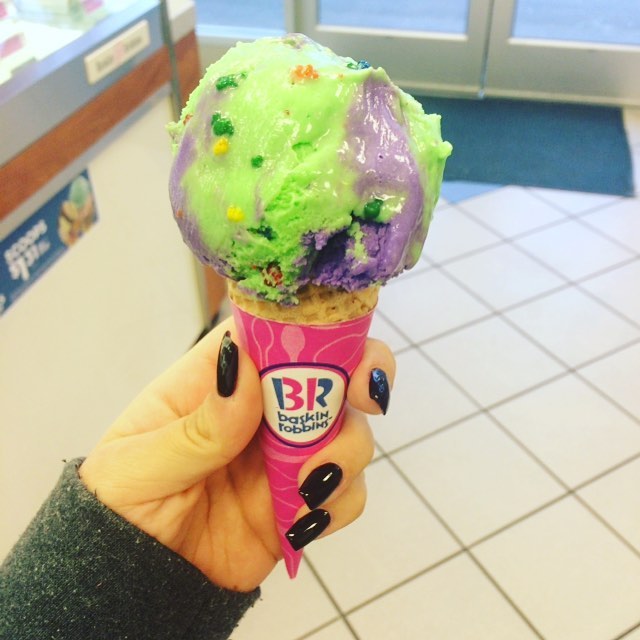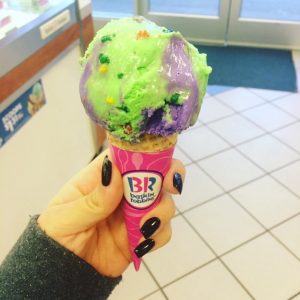 Okay maybe this may not be your supper but kinda like a desert after supper. I used to eat quite a lot of ice cream at night during my time in college, especially the RM1 soft serve from McDonald's. With so many soft serve outlets opening around Malaysia, it will soon be a norm to just have ice cream for supper. (might not be entirely filling but Malaysian snack all the time right?!)
That sums up the 10 things we felt Malaysians must have eaten for supper before. Tell us on the comment section below what you like the most and what we've miss out. Cheers 🙂
Comments
comments