The 12th JB Arts Festival has found its new home at Mall of Medini, Nusajaya, envisioned as the up and coming arts and cultural hub of Johor Bahru! For those of you who are unfamiliar, this sophisticated art space is strategically located among a stunning selection of restaurants and you'll surely be spoilt for choice! So if you're wondering where to dine after an inspiring and delightful time at the arts festival, we've narrowed down the top 6 must try restaurants located at the Little Red Cube, Nusajaya for your dining pleasure!
This interactive sports lifestyle bar and restaurant has its sport-themed interior and outstanding menu designed not only for the true sports fans, but also for those seeking great gastronomic pleasures! Simply unwind and watch a good game of sports while you indulge your taste buds in an irresistible selection of American delicacies such as gourmet burgers, pizza and steak, along with 30 types of imported beers to complete your dining experience!
Address: LG 09, Little Red Cube, Puteri Harbour, 79000, Nusajaya Johor.
Business hours: 11am ~ 2am (Monday to Sunday)
2. Nusa Khao @ Little Red Cube
Nusa Khao is nestled in a cosy enclave on the Little Red Cube and offers a scenic view of the marina! Its menu boasts a glorious spread of authentic Thai delicacies that promises to delight your palate. So pamper yourself and your loved ones with a divine and romantic dining experience while soaking in the gorgeous sights of the Puteri Harbour!
LG 15 & 16, Little Red Cube, Puteri Harbour, 79000, Nusajaya Johor
Business hours: 11am ~ 11pm (Monday to Sunday)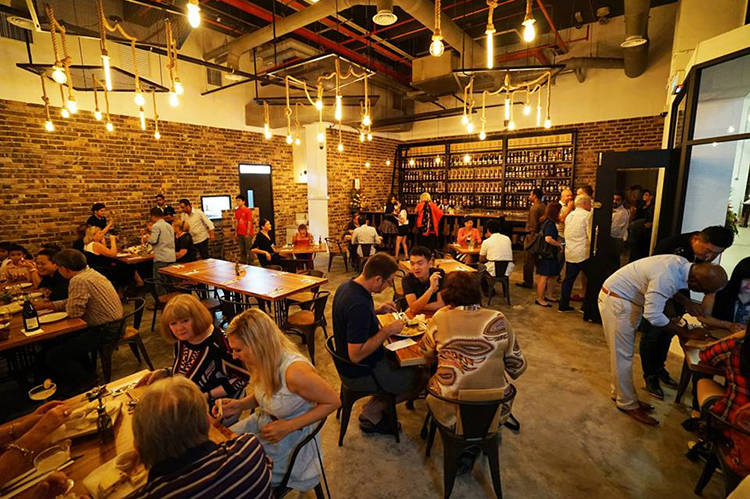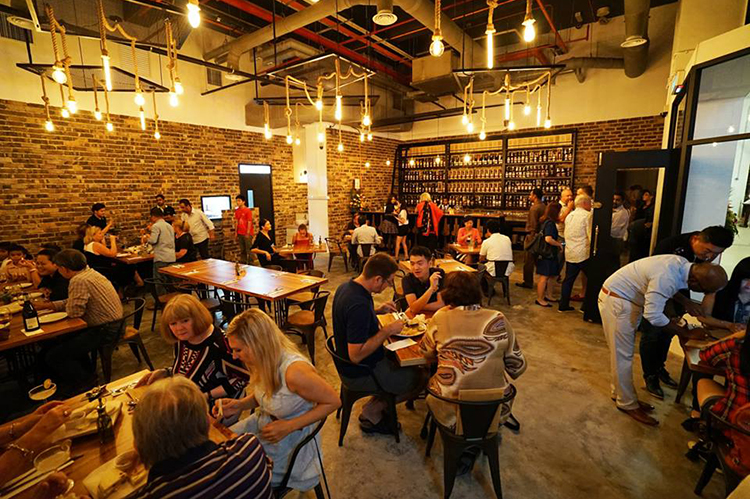 Dine Restaurant & The Single Cask Bar offers a sumptuous variety of European specialties and features an array of acclaimed wine selections and outstanding cocktails. Tantalise your taste buds with the amazing European delights and ignite your senses amidst the tranquil surroundings of the beautiful Puteri Harbour!
Address: LG 14, Little Red Cube, Puteri Harbour, 79000, Nusajaya Johor
Business hour: 11am ~ 2am (Monday to Sunday)
With its equally simple yet charming shop front, the cosy setting of Espresso Garage will instantly make you feel at home! This is an ideal place to savour a good cup of coffee or satisfy your sweet tooth with a tempting variety of desserts. What could be more invigorating than to spend a relaxing afternoon catching up over coffee and cakes with good company!
Address: Persiaran Puteri Selatan, 9D Waterfront Little Red Cube Complex, Puteri Harbour, 79100 nusajaya, Johor
Business Hours: 8am ~ 6pm (Tuesday to Sunday) 8am ~ 10pm (Friday and Saturday)
5. The Olive Kitchen & Bar
Exuding a cosy and elegant allure, The Olive Kitchen & Bar welcomes you to indulge in a lavish spread of dishes ranging from Indian to Western cuisines, while you revel in the delicate aroma of its wide variety of draught beer, for instance Kilkenny, Strongbow, Stella Artois, Lowenbrau and more!
Address:No 11 & 12 Level LG Little Red Cube, Persiaran Puteri Selatan, Puteri Harbour, Nusajaya, 79000 Johor Bahru
Ajisen Ramen showcases the richness of Japanese culinary heritage. It is the perfect place to delight your Japanese food cravings with its delicious ramen and famous Tonkotsu soup, made from the slow cooking of tender pork ribs. A must try for all true Japanese food lovers!
Address: Waterfront 2B & 3B, Ground Floor, Puteri Selatan, Puteri Harbour
Comments
comments